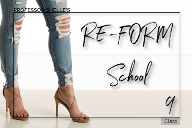 With Spring in full bloom, this week I bring you Class #9 of 15 in My ReForm School sessions. This is My first FULLY SUBLIMINIZED classroom session. In this month's class lesson, as Your Professor Shelle, I will be exploring O/our relationship and reviewing your need for surrender to your POWERFUL Domina. I will be explaining My plan for providing more direct and personal control and "management" over some of your everyday activities, reaching beyond the time you spend listening to My sessions.
As I have promised, each year together will bring you deeper into submission and obedience, needing Me and My control. Intensifying the pleasure of Pleasing Me. My goal is to have your craving more of My direct and active control (what I mean by Management) over more and more of your life. This Class explains ways to reach the goals of O/our future together, which is what I was thinking about when I wrote your lesson plan.
you will help set My priorities for your future training by choosing to make some commitments as part of your class Assignment by thinking of your priorities, your need for My active control. My priority is always making the best use of My time. you know how good it feels to obey...to be managed by a sexy Dominant Woman…
After the feedback from your Class assignment I will explain more about Shelle's Management services. I am now reviewing your 7 day Hypno Dungeon Assignment.
My goal is always to make you a better slave to Me. Remember to choose at least 3 sessions for this week's class assignment. you will find some of them in My Special Deals.
UPDATES
I have posted a new slave story on SFS.  Available this weekend to everyone not having access to SFS.  Watch for it in new releases.
NEXT WEEK
Remember the Female Authority figures in your life when you were a little boy? More on that later.
I will also have a special sissy surprise, possibly your most important conditioning session, another in My new Sissygasm series.
Check My SPECIALS this week ---