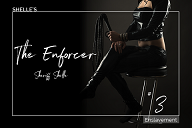 My pet, when I had all that time enjoying life at the beach recently. I was as happy as I remember ever being. I kept saying, I'm in heaven. And you are one of the prime reasons for My happiness. O/our relationship keeps evolving into something more substantial, enduring, and intimate. There are so many dimensions to it. Control- submission. Commands- obedience. Taking care of each other's needs. But LOVE is the most important ingredient that binds everything together. I had a special session focusing on O/our mutual Love but a temporary setback puts it off until next week.
Now back by popular DEMAND, something you have been begging for. I have decided that this week's release will focus on strict discipline, submission and obedience and your arousal to it. So, prepare yourself for the FINAL Episode of Sheriff Shelle: The Enforcer - Strike 3. I really don't need an excuse or enslavement brainwashing to exert My mental and physical power over you. you are weak for Me and as The Sheriff in town, you secretly CRAVE to be dominated and sexually controlled. From tender and intimate to dangerous and hard. Can you handle it, My captured prisoner? (This session is NOT for everyone)
This is an exercise to experience the sharp physical discipline of submission and complete obedience from the firm hand of Sheriff Shelle. The male mind, like its sex organ, is weak and helpless and begs to be controlled. Fortunately, I am highly qualified and skilled at using everything at My disposal to get what I want...how to punish and arouse at the same time. Each week you surrender your mind for Me to do with it as I please. you trust Me with your body, now, to actively imagine and feel what I have in store for you, My helpless slave. Pain is pleasure when it comes from the hand of Sheriff Shelle.
UPDATES
CONTRACTED---you should have received a very sexy secret gift from Me....email Me if you didn't.
CONTRACTED---I'm going to give you two weeks of LOVE on your SFS calendar.
For Dress Up Domina Shelle lovers who sent a contribution---If you have not received My gift, then email Me. I hope I didn't miss anyone. OMG, I'm dressed like a Queen who needs to be adored and obeyed. Any volunteers?
I do hope you LOVE your GIFTS, especially the gift of My LOVE.
WELCOME MESSAGE---Coming FINALLY next week. Remember to email Me if you recently bought one of My files for the first time and want to fall in Love with Me. ~giggles~
NEXT WEEK is the week for a life changing session that will bring you one of O/our most intimate hypnotic encounters... I'll kiss all your boo-boos and make them all better. Kisses
Don't forget to check My special deals ...