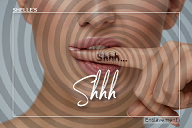 Session Notes: Deep EROTIC HYPNOSIS, Skillful Mind Manipulation and CONDITIONING, Post Hypnotic Triggers and POWERFUL SUBLIMINAL messages.
Have you ever been shushed? Maybe SHHH'd by a woman in authority?...Get swallowed up. There is so much power in this silence. Hummm, wouldn't it be sexy to get ever so close to Me? I mean My lips against your ear? Well, let Me tell you what's about to happen to you...Shhhh, hush, and take My hand and I'll lead you to My chamber. Just walk over to the white leather sofa that I have prepared for you. Put on the headphones that are waiting and lie back. I'm going to hypnotize you and once I have you in that special DEEP DARK place, I'll prove to you just how powerful a whisper can be...oh, and don't mind the undeterminable whispers. They're only the subliminal messages being pushed into your ears as I condition your brain even further. That's what you expected, isn't it?
But that's nothing new to you. It's just your Domina doing what She does BEST. you love it. Shhh, don't ask questions, get subiminized as you sleep in SILENCE. There is so much chaos and noise all around. Be alone with Me, just you and Me. Prove your OBEDIENCE and DOWNLOAD NOW.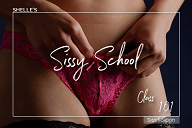 OK, OK. So I had to call off class last weekend. ~giggles~ But with proper social distancing, I will be Calling all sissies for Shelle's Hypno School For Sissy's-Class 1. At Last your Princess, Professor Shelle, begins this New series of class "lectures'' on everything sissy and feminine. The reality of being My sissy hypno slave reinforces your transformation. So I want to make sure you are getting the most out of My sissy sessions. Continue your transformation into the very best YOU need to be for yourself and for your Princess. Meet My sissy slave assistant. Included is a School Assignment to build O/our communication network among My sissy followers for fun, updates and mutual support, as well as promoting your Princess and expanding My Domain.
UPDATES
Take another chance to contribute to My CHALLENGE for My future and know you PLEASE ME.
Contracted, I've posted a new slave story on SFS. One vision of desired slave training....Plus be on the lookout for SPECIAL GIFTS - Including NEW picture set.
Health - I expect you to keep safe and follow all your local Covid-19 protocols. This has NOT gone away. Keep up with Month 3 Healthy Lifestyle Challenge.
NEXT WEEK
Prepare for an extremely EXOTIC experience next week. I have a new way to charm every last drop out of you, My sub bot. ~giggles~
Also, new week, I'll have Month 4 Journey To Wellness-Lifestyle CHALLENGE.
Check My special deals:
Sexual Psychosis --
If you love being hard, HORNY, CONTROLLED COMPLETLY...
No Return --
WARNING**** STRONG and EFFECTIVE hypnosis session