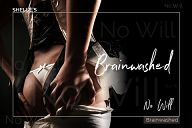 Women rule, men obey is a true fact of life. That is one of the many reasons you are here. Plus, Lab Rats need continuous training and you prove it every week by coming right back here, hoping and waiting and needing whatever I have in store for you. I always do My best to keep you right where I want you...This week's session, BRAINWASHED - No Will is a powerful Erotic Hypnosis BRAINWASHING loop audio experience designed to reduce and ultimately eliminate your willpower, replacing it with obedience. It is subliminally charged using advanced hypnotic and audio effects designed to ultimately decimate your willpower and mold what remains into obedient submission. Isn't that sooo SEXY?
This week's mp3 session is a powerful slave-sub training. For the proper mindset, I can help your listening and learning by defining some of the terminology used. For the Domina "I Want" means I have a desire to possess, to ask, tell, to command. If I have "a want" that is a desire which turns into a demand with expectations. For the slave or submissive, "i want" means: "may i have, ask, beg Domina?"... and having "a want" means "i have a need, longing, craving.... for Domina".
you will listen to this session with that mindset. Understand your primary responsibility is to serve and please your Domina because you know it makes Me happy. You see W/we fulfill each other's "WANTS". We want what I want...and I want your OBEDIENCE...Obedience is pleasure and it is your pleasure to obey ME. So, click NOW and download and listen OVER and OVER. you will OBEY, because I have brainwashed you to do what I want.
UPDATES
My contracted slaves, you will enjoy your Release for Me on the 1st. And so will I! I hope that you loved your last session. ~giggles~
Remember if you want special PRIVATE pictures you may assist with My photo shoot expenses with Dress Me Up, I will send you some of My sexier unseen pictures to play with. Yes, you have My permission, puppy. Plus, I'll do a SPRING shoot soon.
My lab rat, you will be getting some additional interim Experiment instructions (WATCH YOUR EMAIL!)
UPDATE
I know some of you are still working on your Chapter 2 Shelle and the Professor Story. Don't worry about the writing part. It doesn't have to be perfect. What I want are your ideas, your fantasy. I'll edit it and spice it up even more for you.
NEXT WEEK---The Enforcer is back in town. Sheriff Shelle is making another arrest.
Check these special deals:
Subversion --
POWERFUL Brainwashing and Mind Conditioning...
Hypnotic Trap --
you will become entangled in My devastating hypnotic web.