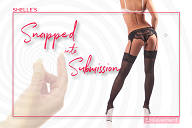 My sweet, is this getting to be too much of a good thing? I have something important to teach you this week with Snapped into Submission. Do you find yourself thinking of Me even more, lately? I know you do, I did this to you. It's exciting, isn't it, having Me with you all the time? I'm going to show you how much better you feel about everything, when you are aroused all the time. See, I always take very good care of you, My baby, like you will to take care of your Sweetheart Shelle for Valentine's Day. ~giggles~ It's just part of O/our bargain, taking care of each other.
Snapping My fingers is a POWERFUL trigger. you have been conditioned over a lifetime to pay attention whenever you hear that SNAP, SNAP, SNAP, especially from a beautiful Woman. Now, go find a quiet, private place and listen to My voice. you are so predisposed and suggestible, that when I SNAP, your whole body comes to attention with instant obedience to everything I say. Just one SNAP has you submitting to My complete control, falling deeper into mindless obedience. Just wait until you feel that tingling between your legs. Craving more of My instructions, begging Me to take all of you, cementing a tighter GRIP over your mind and body, you promise to do EVERYTHING for Me.
I am the source of your arousal which has your fantasies, which I control, running wild. My SNAP triggers your enslavement and satisfies your submissive needs that only I can satisfy. you need Me and want Me to own you. My SNAP Trigger Bomb intensifies your arousal and ignites your explosive orgasm binding you to your Powerful Domina, forever, into the future I have predestined for you, My slave. Chastity slave, you may offer your denial. Sissy gurl, i want your sissygasm.
UPDATES
As a reminder, thanks to some very generous and LOYAL slaves I am making great progress with My Valentine WISH for a new PC and additional Monitor and keyboard which make it so much more comfortable and efficient for all the time and work I do sitting at My computer. So, this is your last chance to help with an affordable contribution to Challenge To PLEASE. Everything extra will start My savings for this year's retirement fund contribution.
For Month 11 Journey To Wellness-Lifestyle CHALLENGE I want to focus on reducing stress as a way to keep a healthy mind and body. I have a recorded Meditation message for you to listen to everyday to help bring you to a place of peace, relaxation and security. Commit yourself to improving and maintaining your health and wellbeing by following all the instructions of My Journey to Wellness, My pet. Coming NEXT week.
This week I'm giving you the link to BUY MY PANTIES Sale for Valentine's Day to give you the full experience of My new Playground Surrender coming out soon.
NEXT WEEK I come to you with Love in your slumbering Dreamland. W/we will also be making preparations for Valentine's Day. Maybe a NEW EXPERIMENT headed your way soon.
I will also have a new SFS slave story for your reading enjoyment.
Check My special deals - also includes My two BUY MY PANTIES listings.