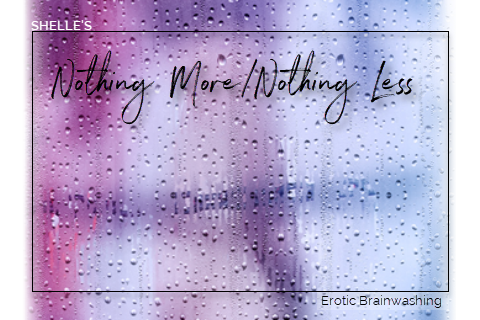 Your SNEAKY and manipulating Domina has just what you need. I can create something out of nothing. Want to find out how? Listen to NOTHING MORE, NOTHING LESS. As I play with My words, I am playing with your mind. I will give your mind something new, comforting and pleasurable and when you FEEL it, your mind starts to crave it.
You already know that I am the key to your happiness. I own you, mind and body. you can't stop thinking about Me. So, follow My words carefully. Only your Domina can make you feel this way and have this power over you, because I'm the only one that can do nothing at all to you and have that special something happen deep inside you. you will prove to yourself that no matter what I ask of you, you will always TRUST Me to know what's best for you.
As you become more emotionally dependent on Me, you will dedicate and pledge yourself to Me with your first and last thought of each day. Through a deeper level of openness and intimacy, you learn the valuable lessons of true submission and selflessness. Funny thing is, I do nothing, you remember nothing...nothing f*cks with your mind. Oh and if you respond well to hypnotic CONFUSION...well, you will LOVE this one.
Obedience ON (snap) Listen NOW...this is what W/we both want.
LOVE ASSIGNMENT
My sweet puppy, here is a gift for Valentine's Day, SHELLE'S 6 DAYS OF LOVE ASSIGNMENT. I want you to have the benefits and joy of LOVE in your mind and heart. There is a Mantra to help you along, leading you to an explosive ending on Valentine's Day. Just follow My instructions.
UPDATES
With Valentine's almost here, I know you want to do all you can to make Me feel really good, especially after that terrible month I just had. Valentine is one of the most important days of the year for Domina. It's a day for the HEART. To help you show your love, I have these suggestions for you, in case you are torn on how to PLEASE ME. GIFT OF LOVE, is always perfect...for I can go for a massage, or get My hair done...something special, just for Me or With My CHALLENGE TO PLEASE you can look out for My future needs. Then there is My WISH LIST. Remember to let Me know, so I can personally thank you for your devoted loving care.
NEXT WEEK
I am planning the next blog for Valentine's Day, the 14th. I will have some sexy presents for you, some timely Mind f*cking GIFTS for O/our Day of Romance.
My Special Deals ...