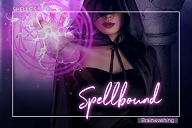 At last. The very best time of year. Yippeee... My BIRTHDAY and a well earned vacation. I'll be at the beach from 8/6 to 8/11, for My birthday on the 5th with My family. you'll find Me with a bucket of OYSTERS and a glass of wine slush. I really LOVE frozen wine slushes, cold and mostly juices, so refreshing. Awww, don't worry, I know you'll be missing Me, so I have special plans to take care of you, My puppy.
Before I go, I'll have an assignment that will keep you busy and maybe a lil surprise too... There are so many ways for U/us to be close for My birthday and always.
O/our Dom-slave relationship is bonded by submission, obedience, domination, control, affection...... Now for My birthday, I want you to focus on ME and your need for Me as an important part of your devotion and service. So many ways to express it, don't be shy.
In case you don't know how to make Me happy for My birthday, just send Me a Birthday TRIBUTE for My trip. I'm very excited to have this FREE time to really enjoy some things I like to do with My family and Lady H.
Just think, NO HOSPITAL SHIFTS!
YIPPEE.... Just REST and FUN.
Don't worry, I'll be in touch with you with emails and TWEETS, I know that you need Me...I'll be there in your heart and MIND, you are never FREE. ~giggles~
Isn't it FUNNY, My whole BLOG FOCUSED on My Birthday! Giggles!
But, there is a session, so do NOT miss it.
This session a fabulous! You will LOVE it.
I will pull you into My world with a few soft words. Then, I fill your mind with subliminal messages...you won't feel a thing.
By now you've likely discovered just how HARD it is to resist your Domina; My soothing voice elegantly framing every seductive word that I slip, effortlessly, deep inside your open suggestible mind.
The reality is you're under My Love Spell, a spell so potent it has bewitched your senses constantly reinforcing a circular truth you can't deny: the harder you try to resist Me, the weaker you become, and the weaker you become, the harder it is to resist Me.
I am the personification of all your erotic desires, the perfect Domina, both a vision of beauty and an aural sensation, My voice and My words triggering a rush of pure pleasure every time I invade your thoughts.
you always do what I want, I want you to listen to this session NOW! No reason to resist, CLICK and download. SUPPORT your DOMINA!
UPDATES
Twenty-twenty three is half over, it's been a lot of hard work and some setbacks but I'm FOCUSED and ready for the next part of O/our journey together. It's a wild RIDE but I know what you need, so hang on tight....you love your WICKED Domina.
NEXT WEEK
Next week, PARTY time! Contracted TIME! If you are not contracted I am accepting two NEW Contracted slaves this week.
Check out My special deals ~~~
Have a wonderful WEEK. Prepare to celebrate with ME!
Kisses
Your Domina Shelle