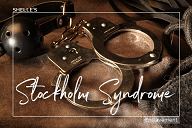 My baby, in this week's session you become My Stockholm Slave. Oh My. I can see just calling you that brings a tingle you know where ~Giggles~ By definition, Stockholm Syndrome is a condition in which hostages develop a psychological bond with their Captors... A victim of the Syndrome also develops positive feelings toward them and sympathy for their causes and goals. you have been brainwashed and conditioned, so whenever you hear My voice you become so suggestible to My words. Kidnapped and Caged, your bond with your Captor, your Domina, intensifies everything you already feel. In O/our case you identify with Me, as My slave. But now the next step…
The more powerful I am, the deeper your submission and obedience. Not only is your primary identity as My slave, but you want more. your needs and desires have turned into cravings. I've turned you from My captured hostage into an obedient loving slave who needs to serve and do your Captor's bidding to gain My attention and the reward of My approval when I call you My good boy (or good gurl). you are crazy with love over Me.
My words are getting you to where I want you to be and defining you to be exactly who I want you to be, My slave, and how I want to be served and pleased. This becomes your central focus and priority. you want to be owned and collared, to be My contracted slave and follow My daily instructions and be told what to do. My trances are training sessions steeped in My control and your pleasure. you buy and listen to all My erotic recordings to bring you closer to your Domina.
you have learned more about how to take care of My needs and desires above your own, to be My VOLUNTEER contributor... to pamper, spoil and love Me... I am leading you on the journey to follow your destiny. All this is to satisfy your overwhelming need to please Me with your submission and obedience….LISTEN and feel your Ultimate submission.
UPDATES
This week I will be posting a new SFS slave story. It describes one slave's long journey to discover his destiny, who came to a deep understanding of embracing his purpose by becoming My perfect slave. Be sure to read it.
COVID infections are at their highest level. I can't stress enough your OBLIGATION to take care of yourself and others by strictly following all the Covid protocols..masks, distance, washing hands, NO unnecessary travel and gatherings.
NEXT WEEK I will be feeding all your sensual cravings... I am so good to you.... And you have been to Me. That's what W/we do. Smiles...
My special deals this week:
Dominance-A Hypnotic Brainwashing --
Accept the overwhelming pleasure of complete hypnotic submission...
Body Worship - My Sexy Feet --
Feel Me seduce you with MY sexy feet...