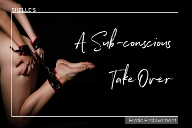 This week I have another SEXY MYSTERIOUS session, My pet... you will follow My hypnotic seductions in A Sub-Conscious Takeover.  It will be the ride of a lifetime.  With the simple flick of a finger you are captured, entranced, seduced and controlled.  It's so easy for Me to make you desperate for My cock control.  Because you are open, suggestible and submissive.  you will follow wherever I lead you.  Experience tells you that your Domina is your only happiness, bringing ecstasy and bliss....feel Her control.  It's GROWING stronger...so POWERFUL now.
It's so easy for you to surrender yourself completely.  you need Me in control and crave My intoxicating takeover of your mind.  There is no one that makes you hard the way I do.  you serve and please Me because your connection to Me is so intimate and personal.  Everything has more intensity and meaning when you do it with Me and for Me.  And right at that very moment when all those images of the Object of all your desires flash through your mind, you experience the pleasure of being so physically close and always being Mine.  I am your addiction and your fix.
After you listen, try being seduced by the scent of My P*ssy Scented PANTIES.
UPDATES
Just in time to announce something new for My sissy slave.  SISSYGASM OFFERING.  Take a look and participate.  No more Stroke tributes for you, My baby.
In recent weeks I have been preparing you for the "UPGRADE" (much like the brain chip ~giggles~) in O/our Dom-slave relationship.  I am making progress with "Management Services" thanks to your feedback.  It will be cumming to you soon.
O/our next Re-Form School session in June will be a lesson you won't want to miss.  If you have not received feedback for your homework, know that it was MOST helpful to your Professor.  Papers are stacked a mile high...where's My damn apple...Giggles~~~
An important part of being useful and helpful to your Domina are these two Assignments.  you know Volunteer Assignment.  It puts you right where you want to be, available to do My bidding whenever I decide I want you.  But do you know with My Savings Assignment you can surprise Me with little gifts.  I give you the initiative to put your service into action.  This shows just how much you want to please Me.  Look for ways to save Money on things you buy and send your Domina the savings.  So simple to make Me happy with you.  If you are not already signed up, sign up.  Consider it part of your ongoing training to be perfect for Me.
I am posting a new SFS slave story.  It's actually a poem to Me from a talented slave.
NEXT WEEK
I know you love My story telling.  Lucky you.  Another very intimate story......
My special deals have changed ---
Mind Numbing SLEEP --
Perfect HYPNOTIC...sleepy file...Conditioning...BRAINWASHING...Triggers IMPLANTED deeper...all as you just sleep.
Buy My Panties --
Have a SPECIAL part of Me...Breathe in My scent and become MORE enslaved to ME!
Manipulated --
My BRAINWASHING will breakdown your mind until I have all control...make you My puppet.