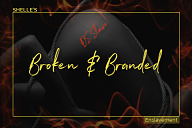 Since this has been a very difficult year in the outside world for many of U/us, I wanted to make the end of year a memorable one inside O/our safe Erotic Hypnotic World. The world I've opened up to you is the reality you crave. So this week, I'm focusing on the Erotic and the Hypnotic with Broken and Branded, a very POWERFUL Behavior Modification session.
My sweet, as My property, I am responsible for you… to provide everything you need so you are dependent only on your Domina. Remember Domina Shelle owns you. you must obey, submit, serve and please. Disobedience and disloyalty is a subversion of My will, a failure. And you NEVER want to fail Me because I bring you great happiness and know how to use your arousal to make you crave My ownership.
you are compelled to listen now. I always know what you need. Be warned, this session employs hypnotic fractionation and other subtle brainwashing techniques to condition your mind to be open and receptive to all My suggestions. There is a slave Mantra attached to this session. you will repeat it out loud if possible or to yourself five times after listening to the session to reinforce your desire to surrender, obey and submit to the Magistrate of your Mind, Domina Shelle.
UPDATES
With Christmas next week, W/we need to make this a very special time for U/us after the difficulties and changes W/we had to adapt to with this now rampart pandemic. W/we both deserve it. I never worked harder in My life. your devotion and support really kept Me going. I'm very touched by how much you want to look out for Me. I can feel your love every day. And I know you can feel My love touching you… in so many places. ~giggles~
I'm feeling very practical this year. So to make it easy for you to pamper and spoil and make Me feel like a real Princess, you may do it with a Gift of Love. If you want to invest in O/our future together then take My Challenge to Please. And as a Christmas present, you know I just love getting your Lunch Money for My hospital shifts. Remember, Domina Shelle owns you. you will obey Me forever.
All your gifts for O/our adopted family have been Amazing. W/we make a difference and it feels good to be able to be generous. I am so proud of you, My sweet baby. W/we (I say we because of your cash tributes) took "the mommy" shopping for clothes this week. W/we also bought more than $400.00 in food items. That was fun. Thank you for all you have done. Oh and I have also been spoiled. If I have not sent a TY for the gifts, I'm working on it. As always some gifts come with no names, so keep that in mind and send me notice of gifts that you have sent.
NEXT WEEK on Christmas Eve, I will have the next blog. Santa Shelle will bring some gifts for you...as well as a sexy Christmas session and Shelle's 12 Days of Christmas-New Years. Lady Helena is also planning some Christmas goodies. Try a taste of them.
I want you to feel very special to Me. Remember to stay safe and be cautious. W/we are not past the dangers of Covid. My hospital will be giving first Covid vaccines as early as next week. EXCITING!
Check out special deals ...
Have an amazing week. Enjoy the HOLIDAYS and don't forget to LOVE hard.