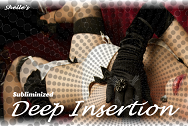 A mind twisting CONFUSIONAL---to Get Subliminized
This week, with Subliminized - Deep Insertion, I continue to realign the mental processes of your subconscious mind.  you love when I tinker with your brain.  This session will take you by TOTALLY by surprise, you won't know what hits you...or where it will take you.  NO MORE INFO... I will ONLY tell you that DISTRACTION and CONFUSION is the perfect weapon to disguise just where I want to lead a subject.  This trance will sneak up on you...Just relax and follow My voice as I bring you through parts of a very familiar, effective induction.  I weave a concept SO powerful...and wicked...you won't know what you get until I am there inside.
you trust Me to take over more control.  With the pressures and stress you have everyday, it feels good to come to Me and feel calm and relaxed, so open and suggestible, accepting My words as commands.  Let Me do the thinking for you.  My thoughts become your thoughts.  So sink into a profound trance...... every instruction buried deep in your subconscious....you have been so conditioned to alter your thinking and behavior and crave My triggers that lead deeper into your enslavement, reinforcing what is important... Serving your Domina, pleasing Me and making Me happy.
MY PICTURES
The perfect match to last week's Hypnotized into Obsession are MY New PICTURES from My most incredible photoshoot ever... in case you missed them.  My magnificent shoot has sexy outfits and poses and a very different look, don't you think?  I may have to drop "soft" Domme from My site description.  I'm using your eyes, ears and c*ck to give your mind a good fucking.  This is what to expect in the future, strict obedience!  Just wait until you see the upcoming set "All Eyes".  Plus coming VIDEOS!
UPDATES ​
Valentine's Cards, so much love...Kisses......Plus I still have Valentine's gifts that I don't know who sent them.  Let Me know if I personally haven't thanked you.
​This week (hope for Monday, depends on hospital hours), I will ACCEPT a new Chastity LOCKDOWN.  If you missed staying Hard and Horny....and obedient the first time around---I'm putting it in Special Deals as a package this weekend... if you want to JOIN in and you already have the package, just email with "SIGN UP" in subject.  If you want to join in and do not have the series, watch for it, and get it...then email Me that you are Signing Up for 26 days.  Let's get LOCKED!
Did you like the CHAIN pictures I posted on twitter?  Making good use of them, My pet?  All the more to take you even deeper. ~giggles~
NEXT WEEK
After a slight delay, My puppy, next week I will help bring things back into focus for you.  you want My direction.  I'll help put everything into its proper perspective with a training session.  It just feels so good when I am in charge and do the thinking for you.  In the cumming weeks, I will be focusing on erotic hypnosis, the arousing and relaxing pleasure of trancing, more experimenting on you, and completing the transfer of control to your Domina.
Also next week, I will give you an update on My Challenge to PLEASE, how much more is needed to meet My goal with one month to go for contributions for My retirement fund.
I am putting together for My SFS contracted The Book of Shelle.  This will be stories I solicit from you.  I have the first slave story almost ready to post.  Each story will be your slave story, that I would edit and post on SFS.  More details to follow.
Come check My special deals ...
Surrender N.  Surrenders pop up in odd places...If you are not following Me on TWITTER/Facebook...do so NOW!  OBEDIENCE IS PLEASURE.