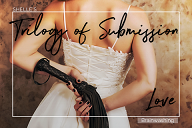 My puppy, these next several weeks are going to be quite an exciting learning experience. I am going to be teaching you why W/we are made for each other. And how lucky you are that I found you and made you MINE. Do you ever think about what makes for a deep and lasting relationship between the Dom and Her slave? What makes U/us work together so well, besides all those sexual submissive desires? ~giggles~ This week W/we start with the Trilogy of Submission - Love.
When you listen to My sessions or just think about Me, all these emotions, needs and desires, fantasies, addictions and pleasures swirl around in your mind and body. you can't get enough of My voice and conditioning. you love Me so much, you'll do anything for Me. How is everything so interconnected? This Trilogy Of Submission will be your guide and make it possible for you to Always please Me and make Me happy with your devotion and servitude to keep you close to your Domina. What makes it so natural to Love Me, to surrender not only your mind, but your heart to Me? I make you feel so submissive, powerless, helpless, mindless. you are so weak for Me.
My love slave, I can feel you Truly love ME for everything I mean to you. That's because there are so many ways to show your Love. No one else can take control of you the way I do. you do love Me. And I love to control you. The less you resist Me, the more you love Me. Then, as your love for Me deepens, you find a greater need to surrender to My control and love Me more. When you love Me you just find so many ways to show it... when you Obey, when you serve, when I am at the center of your orgasms...or offering your denial.... And you Love Me as My undercover lover.
DOMINA'S BIRTHDAY
How much do you love Me? How deep is your love for Me? Can you guess what My very favorite way you can show you love Me?...with the BIRTHDAY Gift to send Me to the beach. Yippee! So, why not set some funds aside every week until August 5th and give Me the Birthday getaway present I deserve. Now, never ask a Woman Her age, but I'll tell you. I'm 29. In fact, I'm going to be 29 for My next five birthdays. ~giggles~
UPDATES
Contracted, you should be listening to that July gift from Me... again and again.
Plus the RESULTS on the Clinical Trials are being delivered. you made Me proud.
Next Week I am taking you to a special place I created just for you, someplace White, BLANK and EMPTY.
Here are this week's special deals:
Hard To Resist --
you're lost in your erotic desires...lost in NEED and Addiction.
slave Cage --
Imagine yourself WEAK, dazed, and so HORNY. All because I command it!
Sweet Torture --
Wicked and Oh so SEXY...