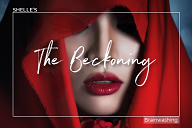 My baby, W/we are on a roll and I've set you up for one of the rewards you get for serving your Alpha Queen so well. This week you'll taste the Queen's nectar. My beta drone, it's mating season with The Beckoning erotic brainwashing, one of the most erotically Stimulating sessions you will ever experience. Do you think you can handle the Seduction? Haha
First, I'll take you into the sleep of dreams...turned into your reality...Trapped in My web of intimate seduction, more powerful than the web of the Black Widow, you'll remain passive and submissive to My physical touch. The Seductress will do all the work. I will feed on your lust and need to serve Me... your need to please Me. you'll do ANYTHING and EVERYTHING for your Mistress when She strokes your arousal and desire. you will cum to Me in servitude and be what you desire, an obedient slave to My whims and desires. And as you reach Nirvana, be thinking of how nothing feels better than to serve and please Me as I turn your dreams of submission and subservience into your TRUE existence and purpose. Happy Dreams, My sweet.
And when you sleep tonight, you will dream of being My obedient, submissive beta slave 624, seduced into working for My needs and desires, dedicating your life to your Alpha Queen and living for My precious rewards. Sweet Dreams, My baby.
UPDATES
All I hear about are these "Stimulus" checks being sent out. So I'm wondering, where is My "Stimulus" check? After you listen to The Beckoning and you find it Stimulating, you can send My Stimulus money to My Challenge To PLEASE!! I'm your STIMULATOR after all. Giggles
It's only fair it works that way. Right? And you can even send it to Me with PayPal or as a Gift Card from My Shelle's Wish List. If you like, send it in a Love letter mailed to My 415 Pisgah address. Yippee! I'm so damn cute. How could anyone not love Me.
And am I happy. I am taking a trip back to Tennessee to visit My family and the Farm starting this weekend until next Friday. If you are really missing Me, I suggest listening to additional sessions. Take a look at My erotic hypnosis special deals for options.
NEXT WEEK Princess Shelle turns teacher with a very, very, very erotic and sexy slave training session for My love slave.
My special deals for additional listening:
FINDOM Pleasures --
This session is SOFT and SENSUAL Financial Domination...
Sheer Danger --
All 5 senses engaged and excited in this sheer sexual fantasy...