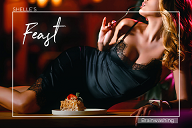 My puppy, welcome back to another adventure with your Domina Shelle. Even when you don't know O/our destination, I lead and you just follow. Each week you enjoy having Me play with you in the deepest part of your mind----the center of your very being. I take you on a different adventure but W/we always end up in that very same place. ~giggles~ Now with this week's Feast I want you to imagine what kind of feast your Domina will create within your hypnotized mind.
Will it be a feast for your eyes? After all, W/we have been very physical lately, body to body. Or will I be the one feasting on your brain...absorbing more of myself into every pore of your mind? Or maybe I will turn you into a beggar who will plead for more of My erotic torment? Are you brave enough to listen blindly...not knowing what My intentions really are?
Yes, you will listen because you trust your Domina, completely, and you love My wicked mind games. Curious? Download now!
UPDATES
With My Talk LIVE, I am making Myself available for more contact with you. So take a look at the link and see if there is something you want to arrange with your Domina. I'll be available whenever you have that urgent desire to please Me. ~giggles~
NEXT WEEK will be My contracted slave week.
Check out My special deals:
Hot Wax - House of Domination --
Experience true erotic submission, a combination of pleasure & pain to subdue and subjugate your mind.
your Destiny Awaits --
Prepare to be lost in the BLACKNESS, a blissful depth of trance you'll be conditioned to crave.
Hocus Pocus --
I am a POWERFUL dominant woman that uses magical words to seduce vulnerable submissives...
Psychological Entrapment --
She ensnares you in Her Psychological Trap...