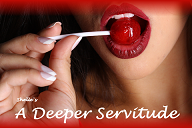 This week, with A Deeper Servitude, I want you to focus on My expectations of being a TRUE submissive to your Domina.  Listen and obey as I manipulate you into serving Me, in meaningful and sweet ways.  I love using My Womanly seductive persuasion to get all that I want...I know that makes your c*ck hard enough to explode for Me, when I want.  I love to hypnotize you and make you believe it is all your thoughts at work...Funny how such a sweet Princess can work Her evil ways.
The part of your life that you live as My slave or submissive is devoted to making sure I am well taken care of.  When you give and serve, it pleases Me and makes you happy.  And I want you to have your hardest erections every time you spoil Me, especially when it's spontaneous, a result of your burning desire and need to please Me.  I want to feed your submission, obedience and devotion to serve and please Me.
Usually, O/our weekly file sessions are centered on what is going on in your mind.  you succumb to My voice of seduction, eroticism and sensual arousal with the Erotic Hypnosis I create for you......My thoughts become your thoughts on a subconscious level.  As part of your servitude, you offer submission, obedience and devotion to serve and please Me.  On My end, holding your leash, is My Control and Domination and the meaningful benefits you offer to your Domina to show appreciation and respect for what I do for you.  Taking care of Me with your financial support becomes My most CONCRETE connection to you.  And it arouses you to be My good boy, who loves Me.
On occasion, I may choose you and notify you of a specific desire I have for you to fulfill.  The best way to do that is with Volunteer Assignment, to be there when I want you to satisfy MY desires.  It reinforces your enslavement and servitude and intensifies your arousal when you are slave enough to satisfy your Domina.
It feels so good to give in to your Domina and stroke My hard c*ck and cum, then send your TRIBUTE.  Or to send your Chastity Offering.  Show how much you love Me with a Gift of Love.  Many ways to spoil and pamper Me.  TMT, Buying lunch.  Help pay My bills and debts with Challenge to Please.  Decide how you will Spoil Me this week.  your erotic compulsion to serve, makes Me very happy with you...
If you can use CASH.ME which goes directly into My bank account, which I find especially exciting, I'll send you a special reward.
Fetish
A very arousing fetish can be Financial Domination.  If this is something that turns you on and want to explore or experience with Me, then Email Me with Financial slave in the subject and tell Me how you want to serve Me with your deep seeded fetishes.
LADY HELENA
As I mentioned last week, Lady Helena has her best work in her most powerful session which is now available in New Releases.  Continue your submissive training and education with MY CHAMBER--ROOM 2.  I recommend you listen to the first two file sessions, My Chamber--Introduction and My Chamber--Room 1.
NEXT WEEK AND UPDATES
One of the rewards of your servitude is feeding your craving to worship your Domina Shelle.  Next week, your training continues focused on the desire to Worship your sexy Domina and how worship (serving at My feet) and servitude are all connected.  I will also have new My Pictures for your adoration and stroking pleasure, My submissive foot slave.
I have mailed out a written IMPLANT to My contracted slave and those who signed up to receive them.  Remember you must have listened to the Brain Chip series to sign up for My Implants.  I am preparing your first recorded Implant which I will be sending, Free.  So look for it.  Also, I will have a special section in My MP3s for Brain Chips and Implants.
Check My special deals ...