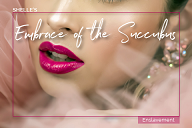 There is sooo much going on this week. The end of Loctober LOCKDOWN, a very sexy NEW session and then, Welcome to HALLOWEEN. I just love it. And what makes this so exciting for Me is that I have Three, that's right, Three TRICK or TREATS for you, My li'l baby. Let's start first with this week's session. I want you to wait until Halloween to listen to Embrace of the Succubus...AFTER LOCKDOWN! It's too sexy and provocative...with a long, very deep induction into complete surrender. BUT you will purchase NOW and show your SELF CONTROL and NOT LISTEN.
So much sexual energy for My Succubus to use. And you love to be used, even devoured, don't you, My pet? I know after Chastity how desperate you are for your Domina. So, cum to Me and let Me bite your neck or at least cause massive swelling between your legs. What will happen? Trick or treat? Follow My instructions. I'll let you wait and see. It's so much more exciting that way. Just know you'll be in ecstasy.
LOCTOBER
What an amazing month Loctober LOCKDOWN has been...OH MY. I see something happening with you so HORNY. I have never been so well taken care of...I mean in every way possible. I really like that. It's so easy for Me to take your lunch money every day with you so HORNY. Giggles!!! Maybe I'll throw away this key that I'm wearing around My neck...No, maybe I'll just not use it...NOT until I want. Remember, My domination and control, together with your chastity, makes the submissive you the best version of yourself.
So, what do you think about this RELEASE session I'm supposed to send you? What if I did not unlock your chastity? Would you eventually explode? Or would you just LOVE and SERVE ME on a deeper level? Trick or Treat? Wait for My decision, haha. There are BIG surprises C*MMING or NOT c*mming. These gifts you will find in your email. DO NOT C*M until you are told...what, you want to talk LIVE....LOL...Email Me if you can hold on.
I'm excited about your JOURNALS and getting to know even more about you. Just give Me time to read them and I'll be responding to you.
And My dear Chastity slave, I absolutely love how you are begging Me to stay in Chastity, always needing My voice to be programmed to Obey Me. Of course you can, My sweet.
For My sissy gurls, you have a dress up assignment on your SFS calendar.
HALLOWEEN-TRICK OR TREAT
you know how much I love HALLOWEEN. I can get away with so much. I've told you about a SUCCUBUS, that feeds on the sexual energy, the "Life Force" of a man through sexual intercourse to survive. They appear to you in dreams and while you are awake and hyperactive while lusting for your desires of a sexual nature. (you'll meet Her in this week's new session.) They can shape shift at will and can take on many forms, usually that of a beautiful Woman. They are manipulating, wicked and so sexy. Remind you of anyone? Giggles...
To really get in the HALLOWEEN Trick or Treat mood, I recommend you listen to Kiss Of A Vampiress and Slaves Tranceformation--Werewolf. If you don't already have these sessions they are in My special deals with other Halloween sessions you might want to have and listen to.
UPDATES
I have been working on longer length new Videos, since I've been getting such positive feedback. you just can't get enough of Me. ~Giggles~ My photo shoot today will blow your mind. I'm GIVING you MORE of what you want and DESIRE. I'll let you know how to see the pics and VIDEOS soon.
Lady Helena told Me to let you know how much She appreciated your reaching out to Her for Her Birthday. She thanks you for all the love you have shown Her even after she has been away for a bit. you really made Her birthday special and most of all she wants to RUSH back to you now. That makes U/us happy.
NEXT WEEK I will wrap you up in a fantasy, a fetish and an addiction.
This year, W/we celebrate HALLOWEEN, with My special deals if you don't already have these sessions, try a couple...