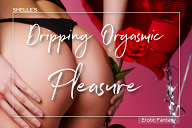 Let go of all your troubles and stress. I have a Valentine's day gift for you, My love slave. Relax and get very comfortable. I'm going to have you cum close to Me. I'll take very good care of My Valentine with this week's V-DAY SESSION - Dripping Orgasmic Pleasure. This is O/our special time together... hypnotic, intimate, mind fucked... triggering your arousal and pent up raw sexual desires for Me. There's such an excitement when you lose all control to your Domina and know you'll do whatever I tell you to do. you just can't help yourself. you have fallen so HARD in love and given yourself completely to Me. you belong to Me, 624. you are weak and obedient.
you need Me to bring out all the pleasure of being My submissive slave. And when it comes to your deepest sexual desire and excitement— feeling so submissive under My control–- I am taking you right there, My love slave, with this gift to you...My words arousing your mind, My hands touching your hands, My image so vivid in your mind. I am teaching you that your ultimate orgasm only cums when you dedicate them to your Domina, the object of all your obsessive desires. you will always be MINE...Close to Me is right where you belong. you love Me, you need Me and I will never let you go because you are so eager to please your Princess Shelle. PERFECT!
VALENTINE'S DAY
you have been shot through the heart once again, My baby. I love it when all your thoughts and fantasies, feelings and emotions are focused on me. I've said this before because I really believe it. W/we find O/our true happiness when W/we love and are loved. And now is O/our time. you have shown your love and adoration with all the wonderful gifts and presents. If you haven't yet, this is your chance, now, to send your Valentine Sweetheart a V-Day Gift and make Me happy. I want you to cum back to this session whenever you need reassurance about how much you mean to Me. Now, look for some additional surprises and gifts I will be sending you, My love slave.
UPDATES
Photo Shoot... Last Friday I had My latest Photoshoot. You may have seen a teaser pic or two already. I'll have a new picture pack available next week. Can you say HOT…or SIZZLING HOT. ~giggles~
Lady Helena sends Her greetings. you can make Her your Valentine, too, with a GIFT. She will soon have some very sexy pictures for you to drool over and be available to Talk Live.
CONTRACTED
I have decided on your need for continued Obedience training. I know how much you need My guidance to get you through each day. So, this Sunday I will send you My RECORDED instructions for the day. And then on a regular basis, you will be receiving My direct instructions for you to obey. you love My voice telling you what to do, don't you, slave?
I am also moving VOLUNTEER contribution Day from the 15th to later in the month, to let you catch your breath.
There is a new SFS slave story for your reading pleasure. One slave's fantasy.
NEXT WEEK
With My New Picture pack, I decided anyone who will help Me cover the cost of the photoshoot and new clothes with a Dress Me Up contribution deserves to get a free set of My sexy photos. Make sure you ask for yours.
Also next week, I've made your therapy appointment with Dr. Shelle who will help you with Her special sexual medication. I am keeping the white leather couch warm for you...
This week's special deals:
Shelle Shocked --
Naughty, kinky internet surfing with Domina Shelle...
Surprise Surprise --
A very NAUGHTY, fun and SEXY Tease file.