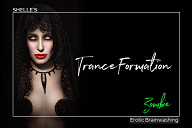 Turn down the lights....Welcome to HALLOWEEN. Will I offer you a TRICK or a TREAT?....Listen to Zombie Trance-formation. Feel My voice seeping into your mind. Oh, what I'm going to do to you. There are all sorts of creatures roaming around outside. you'll want a candle and a cozy blanket....I am the only safe place for you. Ummm, so sexy…I will program you so deeply. you will be My BRAINWASHED ZOMBIE: "a will-less and speechless human, supernaturally re-animated"… by your Wicked Domina.
1-2 I'm coming for you---3-4 you better lock your doors--5-6....well, I'll see you in this HYPNO CONDITIONING session soon enough. Brainwashing and CONDITIONING has never given such perilous pleasure. I am a predator dressed in a sexy black lingerie and I have made you My prey, blank, so weak and mindless. Soon you will look into your own blank EMPTY eyes and mind with a new hunger. A craving that builds within you. It will overtake you until you give in. That need to feed off of My control. My words. My will. your body needs My words to feed your hunger....to feed your addiction to be programmed to obey Me. Conditioned to always need My voice and feed that hunger for My words. I want you, always, as My Zombie. I control your pleasure. I control your arousal. There is no going back.
NOTE...This is a BRAINWASHING session PERFECT for you.
HALLOWEEN DRESS UP CONTEST
It's not too late to SIGN UP to send in your picture to compete in the Halloween DRESS-UP Contest for either the SEXIEST, MOST OUTRAGEOUS OR FUNNIEST Halloween costume. I will be making the pictures you send available and everyone will have a chance to vote for winners in each category…. Cross Dressers are welcome. ~giggles~
With this COVID-19 PANDEMIC into a new wave and spike in cases I'm giving you Month 8 Wellness Challenge. I can see the increase here at the local Hospital. It's very important to be protecting yourself and all those around you.
PLEASURE EXPERIMENT
I have been working so many extra hours at the hospital, that I haven't had time to tabulate all the results of the Pleasure EXPERIMENT. It will be available soon.
HALLOWEEN
It's Trick or Treat time. Happy Halloween. As you know, I grew up with Halloween as a FUN time of the year. Dressing up and getting spooked, that was fun. I want to share a few scary and dangerous sessions from My HYPNOTIC dark cellar on Special for you. Each session is SEDUCTIVE and DARING in a most alluring way...super SEXY to lose all control and maybe even get BITTEN or sucked DRY.
Special THANKS-Together we made it happen. We have raised the money for our Xmas gifts of SIGHT and a SMILE. This has really moved Me. Not only are we giving sight to Lynn, but a smile too. It's all been paid/or planned for and all the appointments are made for Nov and Dec. Not ONLY have we changed someones life but together we prove that we can make the world a better place with LOVE.
Oh and I looked today and the GIFTS for our adopted family have been purchased.
you all are amazing!!!! Thank you so much for your LOVE! If you missed out on a small donation, it's not too late. We still have a little clothing shopping and GROCERY shopping to do. Contact Me for more info.
UPDATES
your Wicked Domina, always there, but next week, front and center, Corrupting your future. It makes you more useful to Me. ~giggles~
I am so looking forward to all those sexy sissy pictures and the results of everybody's votes in the Halloween Costume Contest.
you can look forward to Lady Helena. Soon, She has a SURPRISE or two for you. So listen to the Queen of Vampires as soon as it's available. Watch out for Her BITE!
Check My special deals... included vampire and other dark erotic hypno fantasies…