Chastity Lesson 3--Mind Climax
Chastity Lesson 3 - Mind Climax.
Description
Naughty TEACHER---teaches you a lesson!  Take your clothes off and fall deeper into my control.
It's time for another lesson in CHASTITY.  Time to slow down and let your desires take over your mind.  Yes, I'm going to teach you how good it feels to allow an even more intense building of your need to orgasm.
I will take you into trance and allow you to experience something NEW...a MIND ORGASM.
This will feel so amazing...and yet you will NOT c*m, NOT YET!
So listen and fall into deeper submission, as your c**k becomes more and more controlled by Me.
I wonder how long I will keep you in CHASTITY this time. ***GIGGLES***  If you do c*m, pay MY chastity penalty and begin this lesson again!
Listen to your Chastity Lessons in order.
So hard and so HORNY----WRITE MY name on your c**k and keep it there for 3 full days!
Product Download
Chastity-TEASE-3-tumc3s8a.mp3
Chastity-TEASE-3-tumc3s8a.mp3
Chastity-Lesson-3-Mind-Climax-al6ix0dn.mp3
Chastity-Lesson-3-Mind-Climax-al6ix0dn.mp3
Reviews
Tuesday, 27 December 2016
This session was very special to me since it transformed my view on Chastity and how Domina plans to accommodate a chaste life for her subjects, slaves and submissives. This is changes in the future. When used in conjunction with the other Chastity lessons you begin to see how Domina will control her chastity slaves as they dedicate their submission to Domina on a 24/7 basis. Through repetitive training this file will change you, how you respond to Domina Shelle and how you will be coerced in the future to do her bidding. For me this revelation was incredible to behold and I now have an even greater respect and appreciation for Domina Shelle and her abilities.
Tuesday, 21 July 2015
The way my Domina now makes me quiver and moan in ecstasy with just a word ... She will prove to you that Her power is unmatched. She has me BEGGING to be kept in chastity just so that I may have these astounding feelings of bliss.
Saturday, 10 January 2015
I am Domina Shelle's hopelessly addicted chastity slave. Make sure you have LOTS of time available when you begin this level of your training - you'll find yourself listening to it over and over and over again as she trains you - and rewards you for your progress so far!!! The pleasure here could EASILY be more than you can stand, and if you were reluctant or had any concerns about chastity in the past, they'll disappear entirely. If you haven't started Shelle's chastity lessons yet, grab the first file and DO IT NOW - your future self will thank you!
More reviews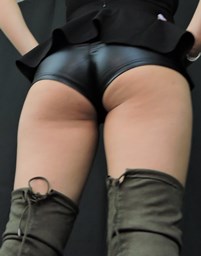 Get Updated