Collar Me Hard
In this session I offer you this opportunity to fully commit yourself to Me by acknowledging Me as your OWNER.
Description
Level: Powerful
Length: 45 Minutes
Category: Enslavement-Mind Control-Erotic
A compulsion...
My pet, recent sessions have demonstrated the nature of our intimate relationship - with Me as the Dominant and you as My submissive.  My words arouse your senses, ensnares your mind, to the extent that I am fast becoming the focal point of all your thoughts and desires...Giggles  you have learned the pleasures of obedience, devotion and servitude to Me, that at a fundamental level, you love and crave My voice and My attention.
My puppy, what would you give to be TAKEN even further into submission to a point where our relation transcends time?  Would you give Me your freedom, your love, your complete servitude?
In this session I offer you this opportunity, to fully commit yourself to Me - Your Domina, Your Mistress, Your Princess - by acknowledging Me as your OWNER.  Ownership is a powerful concept for any submissive and I want you to identify yourself proudly (even rigidly - giggles), as My beloved slave.  you know that you TRUST ME, and as My pet, and My property, I will love and train you to be an even more obedient and devoted slave to Me.
Fall for Me, My Pet, My Puppy, My Love.  Be Mine forever!  I have chosen you and you know that you cannot resist ME!
Product Download
Collar-Me-Hard-(c)ShelleRivers.mp3
Collar-Me-Hard-(c)ShelleRivers.mp3
Reviews
Friday, 06 October 2017
Not for the faint of heart. An amazing deep trance by the lovely Domina Shelle
Tuesday, 04 July 2017
Wow! what an experience! After listening to this, I know I I am now Dominant's property. Willingly obedient to whatever she commands me. Now I know domina shelle owns me, I will obey her forever. I'll wear my collar proudly for her.
Sunday, 02 July 2017
Sometimes I slip in obedience and forget how important Domina is in my life. Collar Me Hard-- is the answer to such "unproductive" moments. Domina brings me down with the well known phrases of sweet dominance – she demands obedience and affirmation – "Yes Domina" - I go along with her game – finally i do want to relax – "Yes Domina" is so calming. Domina keeps my mind focused with a simple task: And e warm soapy water I prepare cleanses my mind and my thought bubble away – I somehow dissolve in the water and disappear. How much do wish that Domina will dip her cute toes into the warm water that has dissolved me – into myself. I want to wrap around her beautiful feet. She leads me away towards a session of worship and submission. When I come back out of trance my submission and obedience is reestablished – there is nothing as important as Domina – there is no arousal without submission to Her - I want to give her everything – I want to be consumed by Her Dominance.
More reviews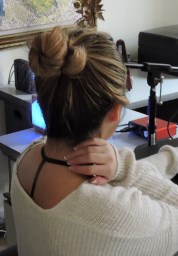 Get Updated