Dominance-A Hypnotic Brainwashing
Accept the overwhelming pleasure of complete hypnotic submission.
Description
Length: 44 minutes
Category: Brainwashing-Mind Control--Erotic Hypnosis
My puppy, you come to Me with the desire of being immersed in My deep, powerful and intoxicating trances, just to have a taste of My addictive enslavement.  you may selectively listen to My sessions to satisfy a specific fetish or craving, sometimes to temporarily quell this desire in your submissive core.  I understand why you adopt this safe, controlled, approach....although not anymore, this is what My control does to you.
This is something so primal and life changing that once the inner you accepts My offer, slave will subjugate himself to Me....for My domination, just to experience the overwhelming pleasure of your own submission.  In return I will control you, mold you and change you as I desire, feeding this submission, obedience and pleasure, until it becomes an unstoppable chain reaction fueling your addiction and obsession.
I will wake up your submissive side in your mind and shut down any attempt of resistance.  With this file I am bringing you where you really belong.
I need not say more, this session is your COMPULSION....and you MUST listen, to progress....Accept the pleasure of achieving complete hypnotic submission.
So, My slave, you will listen NOW and feel the PLEASURE of Obedience!
Product Download
Dominance-A-Hypnotic-Brainwash-(c)ShelleRivers.mp3
Dominance-A-Hypnotic-Brainwash-(c)ShelleRivers.mp3
Reviews
Sunday, 26 November 2017
This is a transformative session intent on pushing submissives down the path of permanent enslavement, and reminding her c about 18 months ago. At that time i made a decision to really immerse myself in her sessions and provide honest feedback. What struck me immediately is how approachable Domina Shelle was and how she helped me on my journey to enslavement. Before i knew it i was listening to her files daily and exclusively. As my training continued i was drawn ever more deeply to Domina Shelle and repetition is absolutely the key to hypnosis. But what is even more important is trust, honesty and having the courage to fully commit to your Dominant. i'm at this stage now with Domina Shelle and every word of this session holds a truth for me that i fervently believe. Domina Shelle is more than worthy of our admiration and i am truly blessed to know Her and be of service to Her. If you have any doubts about submitting to this incredible woman, be assured you are in very safe hands. Moreover, Domina Shelle will open your eyes to a world that you can more than fantasize about!
Saturday, 25 November 2017
This file knocks me out, literally. I listen and wake up wondering what She's done to me. And I long to hear her voice, again and more. It's become a new favorite.
Friday, 24 November 2017
This file made me remember how how long my journey has been and how far i have become from those first trials in submission. All those discoveries and experiences. All the way to be slave to Domina Shelle.
More reviews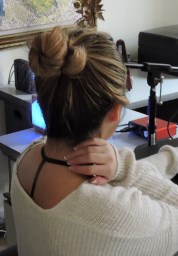 Get Updated