Dominance-A Hypnotic Brainwashing
Accept the overwhelming pleasure of complete hypnotic submission.
Description
Length: 44 minutes
Category: Brainwashing-Mind Control--Erotic Hypnosis
My puppy, you come to Me with the desire of being immersed in My deep, powerful and intoxicating trances, just to have a taste of My addictive enslavement.  you may selectively listen to My sessions to satisfy a specific fetish or craving, sometimes to temporarily quell this desire in your submissive core.  I understand why you adopt this safe, controlled, approach....although not anymore, this is what My control does to you.
This is something so primal and life changing that once the inner you accepts My offer, slave will subjugate himself to Me....for My domination, just to experience the overwhelming pleasure of your own submission.  In return I will control you, mold you and change you as I desire, feeding this submission, obedience and pleasure, until it becomes an unstoppable chain reaction fueling your addiction and obsession.
I will wake up your submissive side in your mind and shut down any attempt of resistance.  With this file I am bringing you where you really belong.
I need not say more, this session is your COMPULSION....and you MUST listen, to progress....Accept the pleasure of achieving complete hypnotic submission.
So, My slave, you will listen NOW and feel the PLEASURE of Obedience!
Product Download
Dominance-A-Hypnotic-Brainwash-(c)ShelleRivers.mp3
Dominance-A-Hypnotic-Brainwash-(c)ShelleRivers.mp3
Reviews
Monday, 12 November 2018
I love this file on point where my Domina Shelle will taken me her puppy slave pet. One blissing knows how treat me with love and I trust her ,because she really love her puppy slave pet Domina Shelle send love to her slave, pet when they submitted to her wishes they act as a command to her slave and pets . She shown she sweet and loving Domina Shelle
Sunday, 05 August 2018
You should listen to this file, even if you are not really interested in the topic Brainwashing. Compared to other Brainwashing files, this one is different: it is a bit softer, calmer with less aggressive language patterns, than other Brainwashing files have. This had a very strong effect to me: it is easier for me to let go with softer files. Domina Shelle is counting you down very slowly and there is not a single moment, where you should be afraid of anything. This file is a soft, but very effective Brainwashing file and it will feel correct to listen to it and let go. I once listened to it in the airplane and it was incredible. Other files are too strong for me to be listened in public places. There is nothing you should worry about and I can assure you, that trusting in Domina Shelle will feel right after you have listened to this file.
I started listening to Domina Shelle two month ago and after having bought already 16 files over the last two months I have a few favourites, which I can highly recommend: Dominance-A Hypnotic Brainwashing , RE-form lesson Class #1 , Freedom To Submit , Twisted Cindarella , Waves of Submission , Behavioural Control Suggestible Mind , Surrender to Sleep . I will put a review at these files, why I also like them and why you should consider buying them too.
Sunday, 26 November 2017
This is a transformative session intent on pushing submissives down the path of permanent enslavement, and reminding her c about 18 months ago. At that time i made a decision to really immerse myself in her sessions and provide honest feedback. What struck me immediately is how approachable Domina Shelle was and how she helped me on my journey to enslavement. Before i knew it i was listening to her files daily and exclusively. As my training continued i was drawn ever more deeply to Domina Shelle and repetition is absolutely the key to hypnosis. But what is even more important is trust, honesty and having the courage to fully commit to your Dominant. i'm at this stage now with Domina Shelle and every word of this session holds a truth for me that i fervently believe. Domina Shelle is more than worthy of our admiration and i am truly blessed to know Her and be of service to Her. If you have any doubts about submitting to this incredible woman, be assured you are in very safe hands. Moreover, Domina Shelle will open your eyes to a world that you can more than fantasize about!
More reviews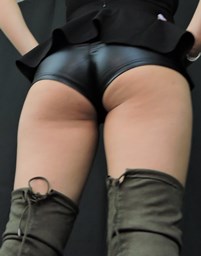 Get Updated