Dopamine
Don't resist---FEEL the COMPULSION building.
Description
Level: POWERFUL
Length: 45 minutes
Category: Brainwashing--Erotic Hypnosis
Sample: LINK
This file is a very IMPORTANT part in your slave TRAINING program.
Listening to this file is your COMPULSION----you will just do it.  You have waited for something so POWERFUL that it will actually change you.  Make you better.
Dopamine comes along at the perfect time in your continuing slave training sessions.  Dopamine helps control the brain's reward and pleasure centers, helps regulate movement, emotional responses.  See where I am going? ~giggles~
I am preparing you for a more direct path to reach Me (your Addiction), a more direct path in service and obedience.  A path to complete slavery.
So, SURRENDER what is mine, your mind, for its DEMISE.  I will also REMAKE it.
Listen with your headphones on for WICKED effects.
Product Download
Dopamine-u14fnr7h.mp3
Dopamine-u14fnr7h.mp3
Reviews
Friday, 19 January 2018
Domina Shelle has a very sweet and gentle style of hypnosis. But appearances can be deceptive, once she has you around her finger, there is no going back.
You'll be on you knees like a puppy dog waiting for orders.
Dopamine is the beginning of your downfall, but you will love it. She will become your new addiction.

Sunday, 29 October 2017
This is powerful, important to listen to and for me still a little bit scary. Important, because it prepared me for many other sessi and it feels like the foundation of Dominas control over me. Scary because Domina gives away everything and tells the truth about what she is doing. And each time i listen my mind feels to be shredded in the tension between the sweet sound of her words and the cruelty of their meaning. This fear is a fatal attraction to this file and i need to come back. After listening there is always not only love and addiction for Domina there is also respect for Her powers and a slight apprehension of danger. And these mixed feelings is a one way road to submission as if my mind would like to cuddle at her feet and plead: "Please do not hurt me Domina – I belong to you anyhow and will do whatever you want!" And she smiles and drills her fingers deeper into my mind...
Thursday, 12 October 2017
I absolutely love this file! It's on of my favourites. Obedience to Domina Shelle is also so pleasurable and this is no exception! She will draw you in, bliss you out, and leave you longing for her sexy voice. It's certainly fundamental in any training regime!
More reviews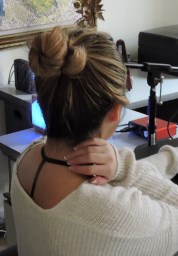 Get Updated