Exploited
A MIND fucking EXPLOITATION ...
Description
Length: 46 minutes + Loop file
A MIND fucking EXPLOITATION....Brainwashed....a soft easy mind and BODY FUCKERY.  SLIPPING, SLIDING...and POOF!!!!  PROGRAMMED, as I believe is best for you.  Impossible to think.
TRULY a MASTERPIECE!
This session is your COMPULSION.  It does NOT matter what it contains.  you MUST listen now.  The ONLY warning is that I will EXPLOIT your MIND.  I will use MY POWER of PERSUASION and MY BRAINWASHING EXPERTISE skills to take you WHERE you are already consumed.  EXPLOITED....MINDLESS OBEDIENCE....a COMPULSION!
FREE LOOP session included.
Product Download
Exploited-(c)ShelleRivers.mp3
Exploited-(c)ShelleRivers.mp3
Exploited-LOOP-(c)ShelleRivers.mp3
Exploited-LOOP-(c)ShelleRivers.mp3
Reviews
Tuesday, 05 September 2017
Back to basic training... But, OH What a Way to GO!
Thursday, 13 July 2017
Not only will you love listening to this file, but it also makes Domina Shelle happy with you. What are you waiting for? It will leave you horny and aching for the wonderful Domina Shelle
Thursday, 06 July 2017
Domina Shelle's latest File Exploited is TRULY a MASTERPIECE! .
Far from being Exploited we are gifted with this wonderful File that gets us to quickly achieve a totally Mindless state, making it's central piece of intense Brainwashing/Programming all the more potent.
From it's erotic and enticing induction, through the deepening sound effects and sirenic echos, The listener's resistance is reduce to zero as we give in trustfully to Her programming.
In the end, our Adoration for Domina Shelle and Desire to Please & Obey Her becomes a welcomed enshrined addiction.
Reaching into the very earnings that brought us to Her, Domina Shelle does indeed Exploit our pleasure and craving for Enslavement, our very desire to be the vessel of Her Thoughts. This File will only confirm what we already know, we all succumb to Domina Shelle's Powerful Voice and erotic entrancement.
Finally, i wish to Thank Domina Shelle for including a Loop to complement the File. For those like me who go to bed Conditioning to a File or number of Files. This Soft and Powerful Loop is a sleep friendly continuity to Exploited all the while reinforcing and accelerating our assimilation to Her Programming. i hope that in the future, more of Her Files will have such soothing and soft spoken deepening loops.
More reviews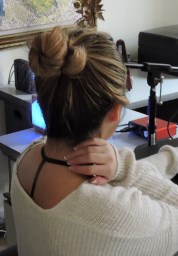 Get Updated