Hands Free Training - Session 2
Shelle's HFO Training ... Session 2
Description
Length: 29 minutes
Category: Hands Free-Mind Control-Brainwash
HANDS-FREE Orgasm Training - Session 2
Having a HAND FREE Orgasm can be mind-blowing, mysterious, lengthy, and elusive...now c*m let Domina play with the G-Spot inside your lil mind.  Isn't that Hot, don't you agree?
Well you are going to LOVE this...These are some of the deepest HYPNOTIC TRANCES that I have created for you.  Can you imagine C*MMING on command...a building up of arousal until your mind and body just give up and EXPLODE in a full body orgasm...an explosion so erotic, so heart pumping that you will want to do it over and over again...Similar to waking up just after having a WET DREAM.
DON'T miss this mind blowing, POWERFUL AND EROTIC training...learn about giving up complete control...feeling arousal completely taking over your mind and body.  Having your Domina's words TRIGGER your BODY into OBEDIENT orgasm.
The full TRAINING will be 5 sessions in total.  Each one MORE powerful, each one bringing you closer to the ULTIMATE EXPERIENCE of a HANDS FREE Orgasm.
Product Download
Hands-Free-Part2-o3c0hmk2-(c)ShelleRivers.mp3
Hands-Free-Part2-o3c0hmk2-(c)ShelleRivers.mp3
Reviews
Tuesday, 26 April 2016
Well i said in the Review to the first File that it looks like she builds this up slowly, but ähm now i am not so sure about this anymore and as much as i would like to review this File there is a small problem with this, i can´t remember anything at all...i am sure that whatever she did will be helpful in the ongoing Training, but yeah i wished i atleast would know a little bit about this, all i know is that i was deep in trance, probably the deepest i ever was, i do know that i listened to this File 3 Times, but well that´s it, that´s all i know and can say, but who knows maybe it´s helpful that she controls me so much that i was sooo gone in her control, that i don´t even know what happened, i really don´t know what else i could say
Monday, 04 April 2016
This file is taking me to the next level. Dominas voice bring me down to submission and controls my mind and thoughts. Very erotic training.
Sunday, 03 April 2016
So hot and sexy. It starts by dropping the subject to the same deep hypnosis that was in the first session, but then it takes a turn to this teasingly erotic experience. If session 1 was one the deepest hypnosis that i've experienced then this was one the most arousing ones. Such a turn on.
More reviews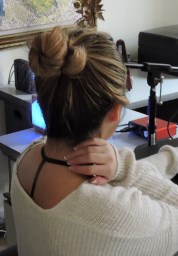 Get Updated