Hands Free Training - Session Climax
Shelle's HFO Training ... Session 5 - Climax
Description
Length: 28 minutes
Category: HANDS FREE-Mind Control-Brainwash
My pet, let your Domina's words stroke your enslaved mind.  As My voice slowly f*cks your swollen and aching c*ck.  Listen to My sweet southern voice as waves of pleasure flow through your body.  Accept your future of mind-body draining hands FREE orgasm.  I am HYPNOSIS, I am inside you...Inside your mind.  you are such a good subject...all you have to do is listen and fall.
My words replace your hands, My words will stroke your mind...I will f*ck your willing mind.  Pleasure will consume you as you open up.  The heat will flow through you like a raging fire...swelling your c*ck as you are swallowed by My wet, slippery tightness.  C*m, My pet, and listen to this mind blowing experience.
Don't miss out on this SEXY SEDUCTIVE mind trip.
IMPORTANT:  For best results listen to and OBEY Sessions 1-4 before listening to this Final Session.
Product Download
Hands-Free-Part5-m9s5fva8-(c)ShelleRivers.mp3
Hands-Free-Part5-m9s5fva8-(c)ShelleRivers.mp3
Reviews
Monday, 16 May 2016
Wow this Series was trippy and this last Part blow my Mind, literally...As i said in one of the earlier Reviews i did tryed to get this experience along time on different ways, so i did had an idea on what she would do, but know i am just speechless, it was completly different from everything i listened to before...Anyway this last Part i didn´t really understood what she was doing, but soon i found myself engulfed in pleasure, lost in pleasure, lost in her words and in the second she gave the command it just happend mental and physical Orgasm, i can´t even find words to describe this, i simply ended up exhausted with a big smile on my Face, knowing what just happened, i had an orgasm, just from the words of my lovely Princess and i am so happy and also thankful for this experience...By the way i don´t know if this has to do with her control or if it is a Part of a Hands Free Orgasm, but i don´t feel like i lost any horniness at all, well that´s not a bad thing for sure, i love staying horny for Princess
Monday, 25 April 2016
Ohh This is a wonderful file. Mindclimax and surrender in to deep sleep. Domina Shelle is pleasure.
Saturday, 23 April 2016
This is an incredibly sexy session from Domina Shelle. While the series might seem to be about pleasure and training, Session five cements Domina Shelle's control over the subject, and after 5 sessions of hands free training, one cannot help but love every second of it. This session is deeply relaxing while at the same time being absolutely white hot. I cannot wait to start training with this session again.
More reviews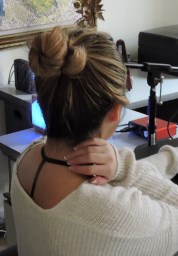 Get Updated