Head Mistress
Be a good student and cum into My class. This is a lesson around obedience and submission...
Description
Length: 20 minutes
Grab your notebook and take a seat, your Mistress has a very important lesson for you.
My teaching style may seem a little unusual... but don't worry it is very effective *giggle*
Once the class is over you may not even realize you have learned anything at all!  But don't worry pet, My words have made permanent changes to your mind and behavior.  Changes that will make U/us both very happy.
This is a shorter session designed to allow your Mistress to slip into your life just a little further, in a powerful and sexy way.
Strong Binaural effects and subliminal messages.
Product Download
Head-Mistress-(c)ShelleRivers.mp3
Head-Mistress-(c)ShelleRivers.mp3
Reviews
Wednesday, 07 June 2017
Ring the bell! Class is now in session, and Domina Shelle is a brilliant teacher who knows how to help her students reach their full potential as her submissive thralls. If you are like me and need a powerful, seductive, dominant, and enticing Head Mistress to school your subconscious mind, then I highly recommend this file.
Saturday, 04 March 2017
This session allows Domina Shelle to further condition your mind to clarify your relationship with her and your association with other hypnotists. For those of you intent on following Domina Shelle, and no other, this is a must for you. Those aspiring to earn your submissive credentials, by committing to a monogamous hypno-relationship with Domina Shelle, this session will help you in this endeavour. We are all used to these style of files in the erotic hypnosis genre but what makes Domina Shelle's standout is how subtle and pervasive her suggestions are. Whether you agree or disagree with the intent of this session, what I hope we can all agree on is how talented Domina Shelle is and how creative her sessions are. I recommend this session to all serious submissives.
Thursday, 23 February 2017
School is in session and you will definitely want to check out the hot teacher! This file is quite enjoyable from beginning to end. Perfect for a quick dose of that voice you cannot live without, or equally good to loop it and listen while drifting off to sleep.
More reviews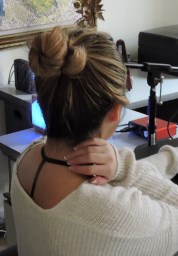 Get Updated