Latex slave
Pure BLACK perfection...So SLIPPY, so HOT, so SEXY...listen and accept what I want.
Description
Level: Hard
Length: 47+ minutes
Category: Fetish-Mind Control--Erotic Hypnosis
Experience Your Domina Shelle like never before as I tease you using the classic BDSM Latex Fetish.  If you are not into Latex, you will be...just for all the WICKED ways I use it to bind you to My dominance.  Subliminal messages and binaural beats are used to coax your addiction throughout this intense trance.  See your willpower slide into nothing while smooth silky latex hands caress your mind into submission.  Just imagine, My creating you as My perfect slave....
A hooded slave, BLANK and mindless, completely covered in glistening and polished latex that encases and COVERS your body and mind...imagine you brought to your knees in perfect submission.
This file is PERFECT for EVERYONE!!!!!  If it's NOT your THING, it will be.
Two versions---choose your drug.
Product Download
Latex-slave-4vi0do1h-(c)ShelleRivers.mp3
Latex-slave-4vi0do1h-(c)ShelleRivers.mp3
Latex-slave-binaural-ew9e6jgm-(c)ShelleRivers.mp3
Latex-slave-binaural-ew9e6jgm-(c)ShelleRivers.mp3
Reviews
Sunday, 25 June 2017
Latex Slave is one of those rare File Sessions where i stayed in a deep conscious Trance. From beginning to end, my mind became Blank but aware as every word from Domina Shelle entered my subconscious. The dept of the Trance was unparalleled. i was frozen in time, being erased and reprogrammed, encased in Latex. By far this is the best File i have listened to in regards to the Mindless drone Fantasy.
Monday, 27 February 2017
Latex was not a fetish of mine prior to listening to this, but Domina Shelle has a way of making everything appealing. i recently purchased a zentai to wear while listening to Her files (which is spandex, not latex, but it does the trick), and this file is undoubtedly to blame. The feeling of becoming an anonymous, brainwashed slave is amplified by being dressed for the part.
Monday, 08 August 2016
Princess Shell has such a way with words making me so weak and so vulnerable to Her as Her latex slave. As a previous review mentioned, wearing latex or anything super tight like spandex makes this file even more powerful. i really hope Princess Shelle makes more files like this, exploiting a powerful fetish. if you don't already have a latex fetish, you absolutely will after listening to this.
More reviews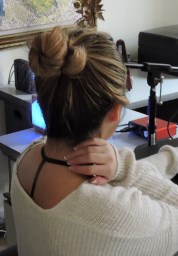 Get Updated