Power Of Mind
Power Of Mind
Description
Level: Medium
Length: 35 minutes
Category: Brainwash-Mind Control-Erotic
Sample: LINK
Let Me take you to a nice COMFY, most COZY colorful and EROTIC place, an easy to imagine place (a place that you may have SECRETLY traveled before), a BLISSFUL place where you can let go and let Me take COMPLETE control ...let your most sexual desires be fulfilled...Where My suggestions are your commands.
In your weakened state I will guide you to and inevitable release just for Me...followed by a surprise that you would not have imagined.
This file is--- D/s, brainwashing, obedience, guided masturbation and a hint of amnesia.
***So you MUST listen NOW!***
Product Download
Power-Of-Mind-cmgcs9kp.mp3
Power-Of-Mind-cmgcs9kp.mp3
Reviews
Thursday, 10 September 2015
This experience is a full dose of all of Domina's most irresistible qualities. It's not clear in my mind what exactly happened during it other than the striking images and flashes of pure ecstasy. The brainwashing must be extremely powerful then, which is exactly how I'd want it to be. Giving in to Domina's control is my true desire, and being guided and dominated like in this file is a perfect way to feel more of that.
Sunday, 14 June 2015
I honestly do not remember any of the contents of this file, but after listening I never felt so safe to be in contact with my Domina -- Princess Shelle. I don't think I've trusted any woman so much more in my life up to this point. Princess Shelle really is an angel.
Wednesday, 14 May 2014
What a fabulously relaxing journey, one that ends with everyone happy. You becoming domina's gardener (perhaps you may not remember) and gladly submitting to her will and control. A file that fully warrants being listened to over and over even without domina's command to listen again, and ultimately, anyone desiring to feel submission without any humiliation will find this to be a perfect file.
More reviews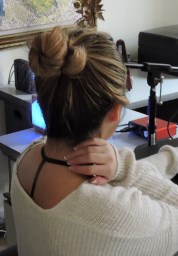 Get Updated