Princess Vampire
A seductive spooky erotic fantasy...
Description
Category: Erotic Fantasy
Length: 37 minutes
In a shift from the tradition of Halloween fright, werewolves and horror.  This is a story of seduction, sedation, abduction, enslavement and orgasmic pleasure.
Our Heroine, found to be a descendent of Count Dracula, has been cursed by a cruel stroke of fate, forced to live in the shadows surrounded by potential danger.  There are SEXY twist and turns that will leave you panting.
As you listen, think about where you might fit into the story.
Can you find the hidden message...after listening, review the session for Me and share your thoughts as to the hidden message.  This is going to be fun.
In case you are wondering, you may find yourself in trance and caught up in My wicked dark world...affected deeply by My words...oh and you will LOVE the SPOOKY EFFECTS.
Product Download
Princess-Vampire-(c)ShelleRivers.mp3
Princess-Vampire-(c)ShelleRivers.mp3
Reviews
Sunday, 26 November 2017
For those of you well versed in Domina's sessions, elements of this story may seem familiar but upon closer inspection you will see this Halloween tale tells a deeper truth. Domina is clearly an exceptional woman, gifted, hard working and passionate about all that she does. In this session she relates how she is dependent on us - her slaves - in varying ways, and in turn we are obsessed and addicted with her, our Owner, Mentor and Mistress. The more you learn to trance to Domina sessions the more you understand how special she is. Little by little she takes control and before you know it she is your world. For any submissive this is a journey of never ending training and submission and one i gladly take to honour the many virtues of Domina Shelle.
Saturday, 04 November 2017
I love her Halloween stories! I volunteer! Please take me! Sexy Vampieres and hypnosis were always a good match, but Domina weaves in threads of all other lovely fetiches – a glimpe in a dungen, metal cages, tease, denial, servitude, worship – to make it an amazing erotic dream. When I woke up from the trance I realized that my head was bend back and my throat was exposed in lustful anticipation. Please take me!
Saturday, 28 October 2017
Many of Domina Shelle's Halloween files have had explosive endings, but I was gratified to find that this one did not. It is sexy and pleasurable, a little spooky and the sound design is great. I loved every second of this, and it is a file that I plan to listen to again and again.
I enjoy being one of Domina Shelle's blood slaves, providing Her with sustenance and pleasure. More than that I need to be one of Her slaves as much as She needs to possess Her slaves. Thank You Domina, and happy Halloween!
More reviews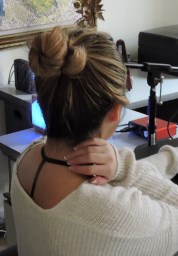 Get Updated