Reflections in the Mind
your next COMPULSION. Very powerful Brainwashing and Behavior Modification...MIND FUCKING...
Description
Level: Very Powerful
Length: 69 minutes
Category: Brainwashing-Behavior Modification-MIND FUCK--Erotic Hypnosis
your compulsion to listen is stronger than your will to resist.
I am the Queen of HYPNOTIC-BRAINWASHING.  I am going to HYPNOTIZE you and BRAINWASH you again and you are going to let Me.  This is because you already feel the swelling inside your pants and W/we both know that when this happens you can NOT think for yourself.
This is where I come in and tell you---My pet, you will listen to this session.  you will fall deeper into trance than ever before.  you will not resist because My words and your AROUSAL have made you weak and powerless to ME.  In this progressive relaxation your mind will become incoherent.  you will soon experience The POWER of subliminal messages.  you will feel the PLEASURE of OBEDIENCE as you SUBMIT and OBEY NOW!
Yes, it is time for Me to MODIFY your mind.  The first step in controlling the subconscious mind is Hypnosis.  All you will do is LISTEN NOW and close your eyes and enter An Altered State Of Mind.
This session is a CRUCIAL part of your Behavior Modification.  It is a COMPULSION.  If you like My mp3-Behavior Modification you will love Reflections in the Mind...
Contains POWERFUL Binaurals and Subliminal Messages.
Product Download
Reflections-in-the-Mind-egw9v5-(c)ShelleRivers.mp3
Reflections-in-the-Mind-egw9v5-(c)ShelleRivers.mp3
Reviews
Wednesday, 28 March 2018
Five starts is not enough for this one! So powerful and rich. Just perfect hypnosis. Too bad I found this file only two years after it was published. I feel like a changed person, so happy to be Her hypnotic subject, so happy to share Her will, so satisfying to be under Her influence. I smile smile smile: Thank You Domina!
Sunday, 13 March 2016
Reflections in the Mind is bordering on a government intelligence file. The heart beating in the background will take one deep into their mind, and the dinging sound will make one instantly aroused. This is a powerful hypno-recording, one of the strongest I've come across in some time. It falls in perfect step with Domina Shelle's other recording "Behavior Modification." If you desire to be aroused for a long period of time and to completely lose your identity, this is a recording worth listening to. I would not suggest to listen to this MP3 if you're simply testing the waters because it's potent and filled with many subliminal messages. It's Domina's best work since "The Experiment" files. In general, it's a great piece of work, but it will put you into bondage. It will drive you to your knees calling out for more!
Thursday, 10 March 2016
I cant put into words how much this file means to me. Usually when a file is this long, i'm ok with it ended, but this one felt so good and touched me deeply in so many ways, I felt like a little kid when didn't want summer vacation to end. I felt so amazing afterwards. I was floating on air. Domina keeps finding more and more of my mind to take. Shes amazing, just amazing.
More reviews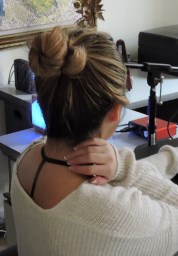 Get Updated