Shelle's School 801 - A Lesson In Chastity
The Eighth in the series of Shelle's Classroom files---Lesson: CHASTITY.
Description
Lesson: CHASTITY - Taught By Professor Shelle
Category: Shelle's School For men-Chastity
Level: Hard--yes, you will be VERY hard
Length: 49+ minutes
Sample: LINK
Open enrollment for this class---this means even if you are new to MY teaching you must CUM to class.
It's BACK TO SCHOOL---classes being taught by: Professor Shelle Rivers.
Come on in, take a seat and prepare for a very SEXUAL lesson in Chastity.
This class will give you a complete understanding of the state of chastity and explain its importance in a man's life.  Yes I will change your mind about chastity...I'll have you begging to be horny and aroused all of the time.
Now don't be alarmed if you become aroused...your Teacher may even have you stroking as She speaks.
Yes the term "Hot For TEACHER" will take on a whole different meaning.  This Teacher will blow more than your mind.
NOTE--Don't underestimate the lengths you will go to for Me when you are HORNY. ***Giggles***
Product Download
Shelles-Classroom-Chastity-bi4e9lwa.mp3
Shelles-Classroom-Chastity-bi4e9lwa.mp3
Reviews
Wednesday, 31 January 2018
Domina Shelle will keep you wickedly hard and horny with her sweet words. And in the end show you the true value of chastity in service to her.
Wednesday, 25 October 2017
Just as if Domina Shelle was reading my thoughts (or did She create them in the first place?), She described exactly how i feel about being kept chaste and how beneficial this is for my obedience. This makes this session extra effective, it's one of my favorite chastity recordings...
Tuesday, 04 July 2017
Chastity is explained in a very sexy way. Mistress Shelle does a great job of explaining the importance for chastity. I would think this file is extremely important before diving into chastity.
More reviews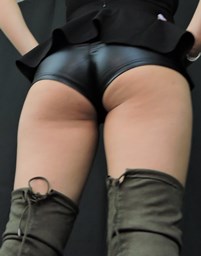 Get Updated