The LOCK
I will lock you up...YES, I am the LOCK. There could be a key...but when?
Description
Level: Extreme
Length: 44 minutes
Category: Chastity-C*ck Control
BE WARNED~~~~This LOCK is REAL----not fantasy.  NOT for NEW slaves.  If you want to EXPERIENCE TRUE C*CK CONTROL---listen NOW.
You are going to feel a powerful descent down into trance.  BeWARE---If you do not want to lose all control of your C*CK to Me, do not listen.  I am about to LOCK you up without a KEY.  Yes, there may be a key but ONLY when I am ready, I am holding the key…maybe even playing a game of hide and seek with it. ***GIGGLES***  For an ERECTION lasting more than 4 hours contact your Doctor.
Product Download
The-LOCK-os5c7irw-(c)ShelleRivers.mp3
Reviews
Friday, 20 July 2018
This file is just what I was looking for. Something that really proves all the control my Domina has over me. For those who want to feel the complete ownership our Domina has over you this file is a MUST!
Sunday, 24 June 2018
Chastity always was my favorite fantasy and the thought of Domina being the real key holder was so exciting, that I adored the file and listened to it again and again. I just loved what Domina is describing but I always thought that it is not real. I just listened to a hot fantasy. Some years later I must admit that there was more reality to it than I initially thought: today I crave to be Domina's chaste submissive and I am locked nearly 24/7 for good. I feel uneasy and incomplete without my cage. This reality sneaked up to me: "The Lock" was just the start and the ways a reality comes true might take turns and detours. - So be careful!
Sunday, 17 September 2017
i have waited all my life for Domina to create this lock for me and I am so happy to have heard it. I wish I could hear Princess saying go deeper over and over it's the sexiest thing in the world. pet nearly had an accident (untouched) at one point.

i obeyed my Domina and i know i pleased Her when i did
More reviews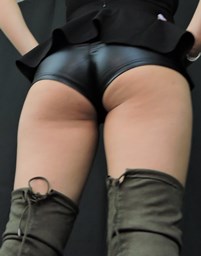 Get Updated