The Unethical Therapist - Session 3
The third in a series of Compulsory Therapy Sessions.
Description
Level: Strong
Length: 46 minutes
Category: Brainwash-Mind Control-Erotic
Sample: LINK
BE-AWARE----This is PROGRESSIVE treatment---each treatment more POWERFUL.  For best results listen to Session 1 and Session 2 first.
POWER, Brains and BEAUTY---all combined for some devilish maybe DANGEROUS ---- mind play.
What have I done to you?------giggles---
This is the 3rd in a series of Compulsory Therapy Sessions that are designed to modify your mind.  Some might say that I am Unethical in my therapy (maybe a little TWISTED)....but you trust Me and you don't even care if I play inside your mind, maybe even REWIRE your brain.  I am the only one who knows what you really need.  I am the only one you respond to.
***Wicked Laughter***
Insanity----what does it mean?---you are safe with Me.
It's ok, I'll help you, give you some NEW and better ways to think.  I will even leave you with post hypnotic suggestions and implant triggers that may never be removed....GIGGLES...Don't worry, I know what I'm doing.  This will shock you!
Product Download
The-Unethical-Therapist-Session-3-0cmk6eob.mp3
The-Unethical-Therapist-Session-3-0cmk6eob.mp3
Reviews
Tuesday, 16 August 2016
This is a powerful file. Level of Dominance that i wasn't expecting. Not for beginners, because they would run away and hide if they listened this. But it's too late for me. Domina is making sure that my erotic pleasure only comes from Her. Just one more aspect of my life enslaved by my Domina.
Thursday, 15 October 2015
i don't know why i waited so long to get this. Not only was it a pleasant surprise, but my mantra sessions have been even more enjoyable since my last visit to the white couch.
Thursday, 17 September 2015
my Therapy is going well after this third session i need my Domina even more. Without the arousal that Doctor Shelle gives me sexual pleasure is impossible. i love all my addictions that She helped me to embrace and accept them. Now the adoration of Her beautiful body and the admiration of Her wonderful face gives me more bliss than ever. i love my sessions and still crave for more. i hope that there will be a forth session someday.
More reviews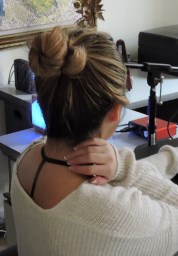 Get Updated