Thought Control
Very POWERFUL mind modification for your life of erotic enslavement...
Description
Level: POWERFUL
Length: 63 minutes
Category: Enslavement-Brainwashing-Mind Control--Erotic Hypnosis
Thought Control
This file is NOT for beginners!
My pet, I know of your yearnings, your cravings and needs.  I know your submissive desires and addiction to My seductive power.  I know you crave My body, voice and control.
Let Me take you on one of the most hypnotically enslaving experiences of your life.  Accept your place...naked, collared as My sensual voice brings you to your knees.  Feel stronger than ever before what it is to becum truly and COMPLETELY enslaved as My sexy words seduce your mind for MORE THAN AN HOUR.  CAN YOU TAKE IT MY PUPPY?
YOU crave a life of erotic enslavement.  A life in which your beautiful and sexy Domina grows your fetishes, thoughts and desires, TO the point that, by the time I have completed My work, you AND YOUR MIND will be CHANGED.  Living life in perpetual HORNY-ness, powerless and mindlessly enslaved to My every wish and whim.
Be warned, this file is extremely powerful and includes numerous subliminal messages throughout....once absorbed by your subconscious mind they will alter your conscious mind....and adjust your thoughts.  This file will change you permanently...the suggestions are irreversible.
This session is an integral part of your on going Behavior Modification.  A POWERFUL COMPULSION!
If you have not listened to Behavior Modification, do so, NOW!
Product Download
Thought-Control-3fs8tlbh-(c)ShelleRivers.mp3
Thought-Control-SubliminalLoop-(c)ShelleRivers.mp3
Reviews
Thursday, 02 March 2017
In the realms between sleep and awake time has no meaning and minutes can become hours and hours become seconds. With an alternating sequence of Her regular hypotic voice and some ASMR like whispering passages Domina keeps me right in that realm – on the very edge of sleep. And between dream and reality I wonder:"did I miss parts of the file or was the time just bended?" "Was there a whispered command in between the words – or were there some words between long passages of whisper?" I know She is programming me but the complete picture is missing and I know that my mind will work on the gaping holes in my dreams. A great lullaby of hypnotic dominance. It is a long recording and therefore best used to drift to sleep – much better than sheep counting!
Sunday, 11 September 2016
i went back and re-listened to this file, i couldn't remember much from my first experience with it. i went very deep. i love being controlled by Domina Shelle. i live for it.
Tuesday, 31 May 2016
If you are almost there but hesitant about taking that last step into complete submission, then this is the file for you. It was incredibly effective at taking away my last bit of resistance to Domina's power. During this file my mind submitted completely and permanently to Domina. There is no more struggling or worry. It feels so good now that Domino Shelle has total control of my mind. I am desperate to please Her, and I will please Her to the best of my ability for the rest of my days. This file contains the truth that Domina Shelle is the most powerful and beautiful Domina of all time.
More reviews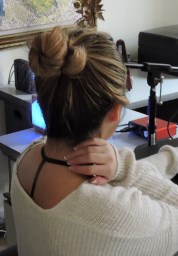 Get Updated