Tranceformation-Just Listen
The beginning of a new adventure, where your Domina has complete control of your mind...
Description
Level: Medium
Length: 24 minutes
Category: Brainwash-Mind Control
Sample: LINK
A trancendental experience of mystical hypnosis will transfigure your mind.
The beginning of a new adventure, where your Domina has complete control of your mind---and your body---changing you at Her whim, and for Her pleasure.  This first file is sweet and slowly seductive, as I change styles and rhythms once again—all so confusing for you trying to keep up with your Domina and understand this new journey you are on--giggle.  Give in and give up, for you will never keep up with Me!  I do love to play with you.
Product Download
Transformation-Just-Listen-dly0cfe2.mp3
Transformation-Just-Listen-dly0cfe2.mp3
Reviews
Sunday, 10 May 2015
The induction used in this file was extremely powerful on me, the best . Although the transformation was a bit short, I loved every minute of this experience, and I cant wait for whats next in this series.
Sunday, 10 May 2015
Being transformed into anything my Domina wants me to be is arousing and wicked. It gives me pleasure for i know my Domina is pleased when She changes me to fit Her desires. This file is the starting point of any "tranceformation" that will follow. So it is really worth buying it and gives you a glimpse of what possible objects and beings you can become for Her.
Sunday, 05 January 2014
A short but amazingly deep file opening a lot of playful possibilities. As usual now I went under almost immediately and felt wonderful listening and obeying Princess Shell commands. Even if the first transformation was short, I can't wait to do it again and again letting my Mistress transform me into anything She likes !
Wednesday, 23 October 2013
Sure a nice piece of hypnosis. i can't remember much, but what i remember were things i usually wouldn't do... i guess no one would. But i also know, everyone will, while listening to this file :)
Tuesday, 15 October 2013
The relaxation is magical. Profound. Princss' voice and the very exotic entrancing relaxing music are combined beautifully. Then transformation. Now i look forward to being transformed in ways even beyond my imagination. Indeed i do.
Tuesday, 01 October 2013
Wow, after listening I can say that this looks like beginning of something really amazing. The transformation idea is great and indeed opens a wonderfully endless world of possibilities. I definitely discovered new and wonderful fetish.
Sunday, 29 September 2013
one of the file with Princess Shelle's touch, you will fall deeper under Her control as She digs deeper and deeper, and you will be ready to be Her anything as long as you are Hers
Sunday, 29 September 2013
The file is a great short file. She tries some new things such as there being music through the entire file. The section where She starts to introduce your tranceformation is seamless... almost sly. It's done really well and by the time the file is over you'll be wanting to be tranceformed... into many many other forms
Sunday, 29 September 2013
This session is about possibilities. Transformation play is one of those fantasies that can only be experienced within trance. Just Listen is a taste of things to come, and Domina expertly puts you into a trance where you can experience other states.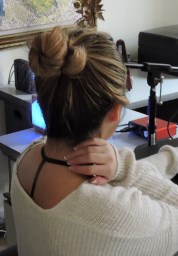 Get Updated