Waves of Submission
Fall deep into My erotic world of SULTRY enslavement...
Description
Length: 47 minutes + ASMR-Loop file
I'm going to HYPNOTIZE you tonight, My helpless Victim.  So be careful as you never know what's lurking in those twisted shadows.
Come and experience an evening at your Domina's beach house as W/we explore your needs.  Lay back on My white leather couch, watch My crystal as it spins around and around, having you fall deep into My erotic world of SULTRY enslavement.  Watch as it turns and sparkles in the evening light.  Submitting, obeying and yearning to return to where you longed to be.  I will continue the enslavement of your open mind.
This erotically charged file will have you deep in submissive bliss...My sweet waves of words bring you deeper and deeper under My control.  The more you submit the more control I have over you, as My whispers train you, TRUST and fall...down, down, down you go.  your Arousal will overcum you as the whispers from My sexy lips slip deep into you.
Take a vacation from your life and experience true relaxation at My house of enslavement.
This session is filled with effects that will truly wash over you and take your mind into a whole other world...The ASMR effects will take you beyond hypnosis, into the deepest depths of trance.  Also with confusion, binaural and subliminal effects.
Don't miss out on another SHOW PIECE of your Domina's...Re-mastered from one of My very beginning hypno sessions....(you will feel and recognize remnants of "The Crystal").
Product Download
Waves-of-Submission-(c)ShelleRivers.mp3
Waves-of-Submission-(c)ShelleRivers.mp3
Waves-of-Submission-asmrLoop-(c)ShelleRivers.mp3
Waves-of-Submission-asmrLoop-(c)ShelleRivers.mp3
Reviews
Sunday, 10 September 2017
I just LOVE Her soft yet powerful dominance! After only a few minutes i am ready to give in to Her slow sweet voice and listen to Her story. I feel cozy and secure like a baby listening to a lullaby. Soon my mind drifts away as it gets harder and harder to follow when a feeling like warm milk and honey starts to surround my skin and my senses. I know She will program me – but I also know that my conscious mind will be far far away in the galaxy of bliss when SHE will rewire my brain. I trust Her - She can do as She pleases. She is my everything – i love to serve Her. Thank you Domina for this amazing experience to be owned by You!
Saturday, 05 August 2017
Beginning of this file was little different that i have used to, so it took a moment before i manage to relax enough. But when She really started hypnotizing me i dropped fast and became blank. i like how She fills my mind with Her voice until there is nothing left of me.
Thursday, 03 August 2017
Although i have am used to giving out high praise for Domina Shelle's files, i have to say that this one felt especially real and intimate. i get the feeling this is the kind of setting that Domina Shelle really enjoys and it shows. Domina Shelle has many story sessions, but this one has to be one of, if the the best in Her collection.
More reviews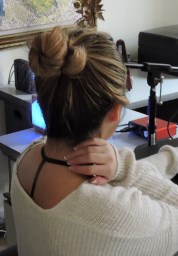 Get Updated