Summer school, this week, with Shelle's ReForm School-Class #11 - The ABC's for all submissives, My approach is a little different:
It is more of a training and conditioning session to bring you to a deeper and more meaningful enslavement that makes everything more Real and more permanent.  It will also better prepare you for THE long awaited EXPERIMENT.  I am HOPING to have the EXPERIMENT ready for you in two weeks.  This EXPERIMENT is a 7 day Mind Control/Brainwashing/Programming SERIES.  Do not miss it...you will make the perfect GUINEA PIG/Lab RAT.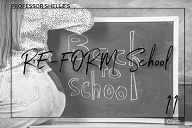 ABC'S have never been so sexy.  I'm all around you.  Through the use of the alphabet, I will help you organize and identify your thoughts, emotions, incentives and motivations with the words you associate with your Domina.  The words W/we use to communicate with each other.  Such as, your Pleasure Cums only when you Serve and Please Domina.  It's O/our connection that makes you feel good about yourself, gives you security, self-satisfaction and a greater purpose.  you always strive to be the very best you can be for Me, which makes Me be the powerful Domina you need Me to be.  So, take your seat in the front row.  W/we can start with A is for Addiction.  Don't forget your assignment or you'll be spanked with My ruler (you will find it attached to your download).
HAPPY BIRTHDAY, DOMINA
Time for a BIG CELEBRATION!!!!  Wow, you LOVE Me.  Thank you so much for all the gifts you so generously gave to Me for My Birthday.  The beach vacation has been fabulous.  Such a great time, thanks to your pleasing Me with the CHALLENGE.  Lady H enjoyed it, also...EXCEPT for the stingray attack.  She is doing GREAT!
With My Birthday actually this Monday, the 5th, you still have time to send Me Love with Gift of Love.  If you prefer sending something more personal, I can help you with Wish List.
***Just in case you missed My Birthday CHALLENGE last week, it's not too late.
Make sure you let Me know when you send a gift, I want to be able to thank you.
COMING
I have Calibrated your receptors for the next EXPERIMENT.  I'm very excited for My guinea pig.
Check out special deals:
Hypnotized and Mindless --
you will be mindless for Me...you are My hypnotic slave.
Tranceformation--Used and ABUSED --
Prepare yourself for the complete loss of control as I TRANCE-FORM you into what I want, My used and ABUSED slave.
Tranceformation - The beginning - Statue --
The 1st file in a Trance-Formation journey.  I will set the mood and place My TRIGGERS deep within you in order to prepare you for what happens next...
Siren--Deepest Desire --
Come to ME!  Listen to MY sexy BEAUTIFUL voice...But know there is NO escaping your DEEPEST DESIRE ...