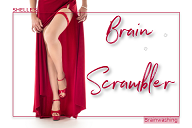 Have you ever been on an Amusement Park roller coaster? The anxiety and anticipation climbing slowly to the highest peak, then the rush and fear screaming down the other side. Well, My guinea pig, this week's EROTIC HYPNOSIS audio session will be the ride of your life. Buckle up in the special VIP seat I have saved just for you on My Brain Scrambler. Just recording this mp3 scrambled My brain. But don't worry, My lab rat, you'll love this journey. Extensive testing has shown this ride triggers many different interesting reactions in participants ranging from increased disorientation, improved suggestibility and, intriguingly, extreme erotic arousal in some lucky subjects. This is another Masterpiece of conditioning. I will mindfuck you like never before and BRAINWASH you with My subliminal suggestions pumping into your brain at rocket speed.
Fall into the abyss of pure blackness deep in My underground world. It feels so good to just let go, to surrender and obey. With a combination of My voice, special effects and your adrenalin, I will personally administer My mind control treatments and achieve that perfect state of a submissive mind. I have set you on My path and laid the tracks for you to follow, encased by My inescapable hypnotic bondage.
Have fun, I'll see you on the other side. you know this is perfect and complete. Without any doubt, it will never change. From now on, whenever you pass an Amusement Park or roller coaster or see it in a magazine, in a show or movie, you will be reminded that W/we are in this life together, forever and always. ~giggles~
PICTURE PACK
you might have seen a little sampling of My latest photo shoot. I want to bring all your visual senses into your fascination, addiction and obsession with your Domina with MY NEW PeekABoo Picture Pack, together with last week's My lipstick, worn panties and stockings giving you that intimate sense of touch and breathe in. Watch My TWITTER post for DETAILS.
UPDATE
Stay vigilant against the still extremely dangerous Covid virus. Next week is your VOLUNTEER ASSIGNMENT with its benefits on the 15th. ~giggles~
Over the next few weeks I will be VAULTING many of My older sessions. Some will be added to SFS. Others Re-Written and Re-Mastered. Some gone forever. I'll update you with LAST chance sessions beginning NEXT week. Watch for DETAILS.
NEXT WEEK
Let Me look into My crystal ball and see what's in store for you, next week. Oh yes, I see inside your mind and can see that you want it to be a surprise....so you will have to wait.
My special deals this week:
Sensory Overload --
As My voice and musical notes converge feel a TINGLE raging inside your brain...
Hypnotic Prison --
your Domina is pushing your limits with an almost sinister PRISON seduction...
Tinkle --
LOSE all control...
Comatose --
Experience guided hands-free masturbation - Mind Orgasm.