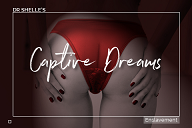 What a wonderful Valentine. But more on that later. We've had the most miserable weather outside with a loss of power, no internet to communicate. Whatever might be that worries you, My slave, thank goodness for O/our Parallel realities. Now, there is work, where you have to do well and succeed so you can take the time you need to come into O/our exciting Erotic Hypnotic world, that I created just for you, My baby.
Inside your mind, in My Garden of Love and Desire there is everything you need. But I'm a controlling Mistress of your Mind. This week in Captive Dreams, when you go to bed to sleep, clinical psychologist, Dr Shelle, will be there to guide you. Fasten your seatbelt for the ride of your life. It's not unethical if I take you on the sleep journey you've always fantasized about. you will succumb to My seductive presence, tight curvy latex, full breasts which I find to be a useful tool in resolving any sleeping disorders from the fear, tension and stress you have come to My clinic to resolve. And resolve them W/we will!
I will have you 24/7. Night and day, submissive and aroused, you can slip into O/our arousing world. This is My gift to you, living your truest self no matter what happens to you in that outside world...... I will control the dreams that race through your mind as you listen tonight in bed. Simply Obey, dream of Me, RELEASE and sleep the sleep of My fulfilled submissive slave.
VALENTINE AFTERGLOW
Isn't it so wonderful to give and receive presents for Valentine's Day? Thank you so much for showering Me in affection with your presents. I know you enjoyed opening your gifts, too. And I loved reading your Valentine's Assignment messages. your love and devotion surpassed even My highest expectations of you, My sweetheart. I am sooo pleased. you really strengthened the bond between U/us. Of course, I am so adorable and lovable that you don't need any conditioning and brainwashing to put Me at the center of your life.~Giggles~
And I am so glad to see that I am achieving one of My goals, improving your life in all ways. I was so taken by your aspirations to always be MINE. Submission and obedience to your Domina couldn't be sweeter.
UPDATE
Between the power outages and hospital shifts I am SLOWLY catching up with your Assignment emails and all the wonderful gifts you offered your Valentine. Be patient. If I haven't personally thanked you, let Me know what you sent. Kisses
Lady Helena is doing well after Her bout with Covid and wishes all of you a belated Valentine's Day.
Contracted, watch for HUGE surprises on SFS!
NEXT WEEK will be a lesson in the natural order with an exciting demonstration of your place in it.
Check out My special deals:
Exploited --
A MIND fucking EXPLOITATION...
Wild Ride --
"Wild Ride" - A Hypnotic Rollercoaster