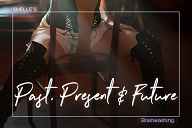 My submissive puppy, one month a year, LOCTOBER, you dedicate a full 4 weeks of chastity in HONOR of your submission to your KeyHolder. I do this for you, because as a truly devoted Chastity slave you get tremendous pleasure and satisfaction from serving Me with your orgasm denial and delayed gratification.
But, this week, I want EVERYONE to listen to My new HYPNO TRANCE called, Past, Present and Future. This session is TRULY one of My most POWERFUL yet...My voice will take you into DEEP TRANCE and maybe leave you so FOGGY that you may NOT remember what has happened to you. I PROMISE that you will find yourself HORNY on so many different levels that you will be left squirming...maybe even pillow humping. Giggles!
My darling, I'm going to use My HYPNOTIC POWER and My wicked SKILLS of Manipulation to do some really CRAZY/COVERT things to your brain. This session is so PERFECT and a MUST listen for all My followers. Let Me give you a lil TEASE. Can you imagine your Domina bringing you home with Me, brainwashing you and TOTALLY MIND FUCKING you. I mean would you remember, would you forget? I'm feeling really naughty... Have you ever slipped a woman's panties off her hips, dropped them to the floor, pressed your lips against her swollen mound? I mean her wet p*ssy against your mouth? Do you remember the sensations you experienced?
I do love teasing you, especially when you are in chastity. I'm IMAGINING you, laying there, stroking your c*ck. It's engorged now, isn't it? Now, let Me ask you, have you ever experienced the LOUD snap of a Woman's fingers? Did She get your attention? Who was it? Did you get turned on immediately and stroke yourself? My POOR HORNY puppy, download to REMEMBER...you canNOT resist a POWERFUL Woman like Me. No man can, especially when you are so fucking horny already.
Now, back to O/our regular scheduled programming. My CHASTITY SLAVE is a slave who commits to serve and obey your Domina in a state of Chastity, offering your celibacy and denying your orgasms, living in a state of obedience and ABSOLUTE submission, devoted to the greater pleasure of pleasing Me. And because you are doing it for Me, you are getting pleasure from your obedience and from knowing that you are pleasing Me.
With LOCTOBER ​Week II--Chastity Pleasures I'm training you to sacrifice and delay your sexual gratification. (Even if NOT in LOCKDOWN you will want to listen.) Instead of immediate gratification I want to give you something more substantial, desirable, satisfying, more rewarding and ultimately so much more pleasurable and exciting which is OBEDIENCE to your Domina. If I want you helpless, that's what you are, controlled, captive, powerless and weak for Me. If I want you to delay orgasmic gratification, you embrace it because you Obey and patiently wait for My permission because you are now craving to Please Me.The greatest pleasure you experience is Pleasing Me with your Obedience.
I will help you to make these periods of being chaste an important part of your service to Me, a way of expressing your love and dedication to Pleasing your Domina with not only your Obedience but with your servitude to take care of Me. And in return you earn My affection and approval.
UPDATES
If you are signed up for LocTober, you should have received an email that INCLUDES Weeks 2-4 ASSIGNMENTS. If you have NOT gotten them, email Me for them. By the way, are you HORNY yet?
On Sunday I drive back to Tenn. to see My sister and help work on her recovery. you have helped Me in the past and I want to give you the opportunity to contribute to My expenses with Challenge to PLEASE. I know that you love caring for your Domina and feel guilty that you are not physically here, making My life easier!
My contracted, I haven't forgotten you...there may be a surprise or two coming soon. Also, remember if you're in LOCKDOWN, the daily rules supersede the SFS Calendar instructions.
If you are not a "contracted" slave but are in Chastity, notice how much closer W/we are as W/we share this most intimate relationship, with you locked up for Me. you are doing more to please Me and I am becoming more important to you. Be MINE, get in touch with Me...Maybe I'll send you a contract.
NEXT WEEK
Next week is Loctober Week III--Dissociation plus something NEW.
Check My special deals:
LOCTOBER 2023 Chastity Series --
The COMPLETE 4-week LOCTOBER SERIES.
Hypno Toy'd --
Playing with My Hypno Toys is so wickedly fun...
Hypno Toy'd Sissy --
Come, My sissy slave Toy...
A Psychological Desire --
Listen NOW to My voice and feel the Psychological DESIRES take hold...
Voice Of Control --
No more thinking. My voice dispels all other thoughts but MINE...just as it should be.