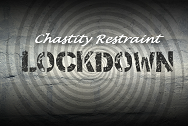 May the GAMES begin as LOCKDOWN continues.  As you will see your Chastity has fewer privileges with Chastity RESTRAINT which includes the WEEK 2 Chastity Assignments... ~giggles~ When you are in the PERFECT state of Chastity you are much harder and weaker, putting you in the Perfect state of mind.  Stay HARD one more day, one more week or who knows how long.... ~giggles~
Consider Chastity Restraint as a tutorial on the superior pleasures you experience when you remain Chaste for Me.  I've often said it's a higher level of enslavement...you may think to be an expert, so this is a refresher course.  But I want to be sure you understand.
The full SPECTRUM of prolonged pleasure and arousal from Strict Chastity, to being directed to stroke, to wait and wait patiently...allowed to edge...and then Valentine's Day!
Feel the pleasure of obedience in service to your Domina.  I give you the pleasure of sacrificing, saving your sexual pleasure for Me.  Arousal in Pleasing Me, your Domina.  Nothing compares to Pleasing Me...not even cumming.  you don't need to think, you need to obey.  The pleasure of obedience is a state of mind.  It's the pleasure of WANTING to please Me, to please Me by serving your Domina the way I want to be served.  I take you through this spectrum of mental and physical pleasures.  There will be days of ABSOLUTELY NO TOUCHING.  In addition to WEEK 2 Assignments, I will send stroking and edging assignments with MY rules in place.  And I don't expect accidents to happen.  The price to pay is a Chastity Penalty.  The stricter the Chastity, the more you'll work to make Me happy.
This Chastity RESTRAINT session is for EVERYONE.
NON LOCKDOWN participants:
For Non Chastity, you can choose NOT to participate in the LOCKDOWN but experience the pleasures with your mind and c*ck in Chastity.  For non-chastity participants, My RULES are:  you want to Please Me.....you don't deserve to c*m without your Domina's permission.  you have MY permission to stroke and release when you send a Stroke Tribute.  NON chastity LOCKDOWN participants do not receive the gifts...so much C*CK TEASING with My gifts to you.  I have to play WICKED, or it would not be fun.
My LOCKED DOWN puppy, look for two special very sexy Assignments this week.  I'll remind you through Twitter with links to the Assignments.  PLUS C*CK TEASE audios will be emailed, beginning tomorrow.  Watch your email.
Contracted look for something too.
UPDATES AND NEXT WEEK
Next week is a week of temptation with two Chastity file sessions.  Teasing and provoking temptations to keep you on edge, you desperate to please Me and OBEY!  Also new WEEK 3 Assignments.
My Special Deals ...