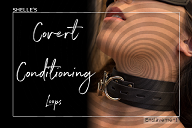 My sweet, I am taking you away to a new kind of ESCAPE this week. I'm always BRAINWASHING you and playing around inside your brain...so this week, I will CONDITION your mind with My Covert Conditioning LOOPS. There are TWO sets of LOOPS, one for everyone and one for sissy gurls--Sissy Conditioning LOOPS. This is a BLIND CONDITIONING series filled with subliminal messages. NO content info will be revealed for any of the loops.
This is what BLIND TRUST is all about. After all, who knows you better than your Domina? … I know better what you need than you do. When you hear Covert CONDITIONING, it sounds sinister and dangerous, something to resist. But your trust in Me has led you to turn over all control to your Powerful Domina/Princess. GIGGLES***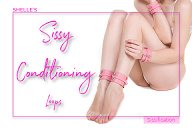 HINT: This specific set of affirmations will covertly and progressively develop a slave mindset, with you as My willing servant and Me as your all powerful, all knowing Domina. Don't be surprised if you find yourself absentmindedly repeating My words, either quietly aloud or with My voice in your mind, this is just confirmation that My suggestions are working and are becoming a mantra for your conscious mind.
This reality helps get you through each day. you are open and eager for MY Covert Conditioning. There is no resistance, just submission and obedience. Listen and accept My words without thought or question. Give yourself to Domina. I will perfect you.
As I promised at the beginning of the year, My loving slave, this is your journey into a deeper enslavement. You need to be conditioned...All I want is everything you have to give. ~giggles~
UPDATES
As I begin to receive your new Mantras from last week's Mantra Assignment, I will keep you posted. Consider this as your Nurse Shelle's temperature check, in your own words, describing O/our Dom-slave relationship. I can't wait.
JUNE is a special month for My sissy girls. I will be introducing two NEW series, School for Sissies and Hypnotic Clinic for My special sissy "treatments". ~giggles~
NEXT WEEK
Next week will be a magical time that could very well positively change everything. It's going to be a very special session that you will return to whenever you need to feel extra close to your Domina.
NEXT week: I have Month 3 of the Wellness-Lifestyle Challenge. W/we are using Covid as a way to change to a healthier lifestyle a few steps at a time. No sense going through this pandemic, only to return to unhealthy habits. I prescribe good health and no stress.
Check My special deals ---
Response Expectancy --
I can't wait to show you just how I will use this tool to train you...
Forget To Remember --
your mind is My Mine...TRUST Me
PLEASE continue to stay safe. W/we need each other.
Kisses,
Your Domina