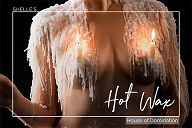 My subject, here you are again at the door of My House of Domination. Put yourself in My sensual hands and enter. Let My sweet voice tingle every part of your mind and body leaving you with a powerful craving for more of My training and conditioning. Relax and surrender yourself. My words will guide you, without thought, without question into My world of domination and surrender...Hot Wax - House of Domination.
When you were a little boy do you remember that pretty woman that you simply had to obey to please Her? And your obedience gave you such a rush. I will seduce you, control you… make you weak, obedient and suggestible. How much do you want to submit to My training, slave? I'm so sweet and adorable. But what if I wanted to test your willingness to suffer for Me… What will I do to you to test just how deep is your commitment to experience a more intense feeling of submission and obedience and a higher level of servitude and enslavement? I've unlocked the door and have a special room just for you in My Fantasy House, My private dungeon. I bring you here to serve at My pleasure, to fulfill My desires and infuse you with true submission and an overwhelming desire to please Me in whatever way I choose. I will ignite your desire to serve and please Me which is becoming your greatest pleasure.
I am your Absolute Authority and it is essential that you learn to always obey your Domina. So kneel, worship and ........ you'll have to listen for the rest of the adventure, won't you, My pet.
SEXY PICTURE PACK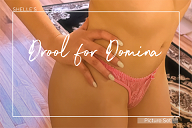 I think you are going to love worshiping your Domina with the NEW Shelle's Picture Pack - Drool For Domina. First, It helps you "visualize" My voice and your fantasies. Worship is an ancient tradition of submission to a superior Goddess. It is a sign of fealty and devotion and because it stimulates a sense of deep submission, it is very arousing for any slave to worship the Queen. When you worship My image, I like to think of your saying: "Yes Domina, I will alway work HARD to serve and please You." Such a good horny slave.
UPDATES
Have you noticed the cost of everything going up? This is a good time to re-introduce the VOLUNTEER SAVINGS Assignment. you get the benefit of having your Domina helping you manage your money, plus saving money on things you would ordinarily buy and then the pleasure and satisfaction of pleasing Me by sending Me your savings. (smile)
Plan ahead before shopping for anything. Are there any sales, coupons or even a cheaper version of the more expensive brand you would buy? For this ASSIGNMENT, you may choose to do this for ONE or TWO shopping trips. I'll thank you, personally, and tell you what I will do with OUR savings you send! ~giggles~
Saving money is a good sensible thing to do all the time you shop for yourself.
My Beginning Path is slowly becoming exactly what I want it to be for you, My pet. But I have to resolve some Website issues (Changes to wording due to changes to Mastercard regulations for all websites) before I give you an ASSIGNMENT so I can get to know you better and satisfy your need to OBEY.
I want to give you the experience of a lifetime so you vividly remember how the rest of your life all started. you are off on your journey to a fuller submissive life in service to your Domina. It is just beginning. I know you will enjoy the excitement of being My mindless, obedient, owned puppet!
NEXT WEEK
Next week you will be embracing the feelings of being totally enslaved to My will.
My special deals have changed:
THE EXPERIMENT - Mind Calibration --
The 6 Week MIND CALIBRATION EXPERIMENT for My Lab Rat.
Freedom to Submit --
I will take you into an amazing deep trance and FREE you...
Edge Of ERUPTION --
Experience the amazing feeling of being HARD, HORNY and completely submissive for your Domina.