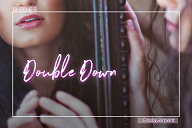 My pet, as you know, relationships are complex. So many things have to fit together to have a long lasting successful relationship as W/we do between the Dominant and you, My submissive. This week W/we are going to explore just one of the many ways I have become such an important part of your life. I have such a sweet, innocent voice and yet, each week I can manipulate, condition and brainwash you to become more dependent on Me and My control, and make it feel so good to put yourself at My disposal for whatever I want.
So, just relax and let My voice guide you into a Trance Within A Trance. I'm going to DOUBLE you DOWN! Think of My eyes and look deeply into them. There you'll see the reflection of who I want you to be... that submissive part of you that makes you vulnerable and weak for Me, so eager to please and do as you are told, begging Me to take you and make you MINE. I promised you something sizzling for this HOTTEST of July's. So, I will take you Deep into trance and Trigger your sexual urges...and you will grow rock hard. I love you hard, I have complete control whenever you are hard and HORNY.
I will create an arousal so intense that it will trigger your imagination to discover what you truly crave and what you need to do to serve and please Me in total obedience and submission to bring you the joy and happiness for a life filled with purpose and pleasure.
I just bet that when I wake you, feeling so horny and so aroused you won't be able to do anything else but what you have been told to do... you need Me and you have become more dependent on Me...It's time to cement this BOND!
Giggles!!! Mind FUCKED and so FORGETFUL!
UPDATES- I have a HUGE agenda planned for you. There will be days of STROKING...or not stroking...caged or not caged but always MIND FUCKED!
NEXT WEEK- I am going to take you on a long and deep journey into MY DUNGEON...Isolated and BRAINWASHED...My voice INVADING your mind from all around.
Check this week's special deals:
Art of Persuasion --
The Art of Persuasion when wielded by a sweet, sexy, dominant hypnotist, your poor subconscious mind happily capitulates...
Sheer Danger --
your mind PUMPED with My subliminal messages. your body overtaken with SHEER arousal...
Hot For Teacher --
Try NOT to think about your sexy Teacher. Try NOT to think about Her total MindFUCK.