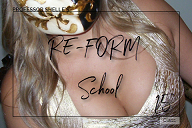 This is the final class in this series, Re-Form School Class #15-Your Destiny. I will be foretelling your future because your destiny is with O/our future together. you know that I know what is best for you and My thoughts are your commands you integrate into a happy life as My submissive. Come take a seat in the first row, unzip and stroke.
I'll briefly review O/our awesome 2019 together and predict that 2020 is going to be so AMAZING for both of U/us, My submissive student. Follow My instructions and it will inspire you to do the very best for Me. The better you do for your Domina, the happier you will be. And that carries over to the rest of your life, improving it for yourself, family and greater success with your work.
This lesson focuses on strengthening the bonds of O/our Domme/slave Relationship… How best to please and serve... to deepen your feelings and experiences… intensify your sensations of submission, obedience and arousal. My continued Control over your mind, fantasies, body and sex (yes, that, My puppy ~giggles~) will be demonstrated in this very class session. Cum along with Me this year on new journeys and more experimentations.
CLASS SLAVE WORKER ASSIGNMENT
As your class assignment (available to everyone) is the completion of this SHELLE AND THE PROFESSOR story. Download it with the instructions. Chapter 1 is completed. you have the option of starting with Chapter 2 or rewrite the story from the beginning. Use your imagination and create a fantasy of your own.
Consider this to be an obedience training assignment as practice for your role as My slave worker. That's right, My servant, you work for Me. I will choose AT LEAST 2 stories to be used as erotic hypnotic fantasy sessions for sale, one with a Chastity storyline, another for My sissy gurls. Maybe even an Audio Book and SFS slave story postings with all the stories submitted. To submit your story when it is finished for My use, there will be a modest submission fee, made to My CHALLENGE. See, I will allow you to pay for the privilege of working for your Domina. Perfect! If you won't be submitting a story towards your FINAL SCHOOL GRADE you may, instead, make a contribution to acknowledge your personal Submission to My Authority. I am sooo good to you, My Sweet. Grades will be given out in two weeks. I will give extra credit for Valentine's Day gifts. ~smile~
VALENTINE'S DAY
I will be sending you SPECIAL Valentine's Day surprises. Who knows, maybe Love LOOPS and sexy pictures. I have a photo shoot next week... you may want to start early with your gift giving if there is something special that you would like Me to wear just for you during the shoot (maybe you would be gifted free pics). Oh, I can also use a Mani-Pedi, My Hair done or just PAMPER Me, your Valentine.
UPDATES
My sissy Gurls, did you get your special edition of Helplessly Obedient-Sissy now in New Releases? Contact Me if you purchased the original session and didn't get the sissy version directly from Me.
After you listen to the School Session you may want to contact Me about My Slave Contract or a Collaring Ceremony. Look it over and email Me and W/we'll talk about it soon.
Contracted a great day to celebrate on the 1st with your reward for being so good to your Domina. Remember to read the SFS slave stories if you need a guide for your school assignment.
NEXT WEEK A deep Brainwashing session. Then, calling all sissies. Let's Surrender MGT on My Playground.
My special deals -- Seven sexy and powerful brainwashing sessions ...