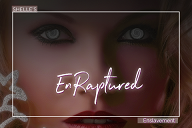 Enraptured: Filled with great pleasure as in ecstatic. Experiencing overwhelming and pleasurable emotions.... My Sweet, this is what happens when you think of Me, hear My voice and follow My words. you become Enraptured with your Domina. your lustful desires are aroused when I tell you what to do and how to please Me. And this stimulates your growing need for submission and obedience to your Domina. Together with your unselfish commitment to obey and take care of My needs and desires, you have earned My extra attention and training with this week's EnRaptured. This pleasure is just for you, My baby.
you LOVE all the ways I am able to manipulate you into doing whatever I tell you to do. And in this most seductive session, I know this is one of your favorite ways to fall under My Absolute Control, when whatever I want is the only thing that matters to you. I find it powerful and exciting to have this control over you, to have you weak and horny as I seduce you so that nothing stands in the way of My will and power over you when you exist only for Me...when pleasing Me is everything you need. Surrender yourself completely to Me and fall into a state of utter ecstasy. Then tell Me how much you need Me, how much you love Me. Tell Me that I am the only one who can fulfill your desires of sexual domination and erotic mind control.
This will be one of O/our most intimate sessions, My love slave. So, listen and obey. Stroke and consummate O/our Dom-slave relationship. your destiny is to Love, Honor and Obey and be MINE, forever.
UPDATE
I am writing to you from Tennessee. I drove here with My sister earlier this week to support My Tenn. sister with her continuing rehabilitation.
My contracted, you should have gotten My two video gift messages for this month. Every word is your truth to live everyday. And thanks for everything you do to support Me, now that pleasing Me is your life's work. ~giggles~ But, this time I won't ask My contracted for support for O/our expenses while away in Tenn. with Challenge to Please. But, everyone else is allowed to Please Me.
NEXT WEEK
Maybe next week you won't remember what I decide to do with you, but you'll do it anyway....
Check out My special deals:
Hypnotically Enraptured --
Each POWERFUL HYPNOTIC word is a stroke of My hypnotic paint brush...
Head Mistress --
Be a good student and cum into My class. This is a lesson around obedience and submission.
Focal Point --
Give yourself to Me...Enslave yourself to ME.
Hypnotic Trap --
you will become entangled in My devastating hypnotic web.