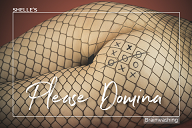 This is a perfect time for Me to take you away with MIND games. your brain is My playground. I teach you with this week's erotic hypnosis mp3, Please Domina. EXPERIENCE: deep relaxation, hypnotic immobility, thoughtlessness, recitation, devotion, tease and denial and HYPNOTIC Domination. All packed into this amazing session. Take off those clothes and RELAX with Me now.
I'll teach you to play My "Please Domina" game. you and I here together, such an obedient slave always excited to please Me. PLEASE is a word W/we use a lot. "Please Domina, may i ask permission?.... May i beg You to....? "Please Domina Shelle, let me always obey and please You." I told you this is gonna be fun and did I mention a little sexy. Giggles!!!
Then, maybe another game, "DOMINA'S puppy" and "Domina's prisoner". I love teasing your mind and body. ~giggles~ Such an aroused puppy. Surrender B! Listen and Obey. I'll even allow you to Please Domina with a Stroke Tribute.
My sweet, no matter how this pandemic is affecting you wherever you are, know that I'm right here with you. W/we are all in this together. I know just what you need. My voice washes away your thoughts and stress. Come away with Me.
Sissy TOUCH---Ummmm so sweet and sexy!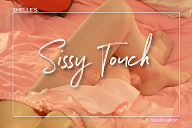 Calling all My sissy slave's. Listen to Sissy Touch. Just close your eyes for your Princess and be My good gurl, so aroused and eager to please Me. Just the way I like you.
My GIFT to the WORLD---Feel FREE to share this session with ANYONE you know or love. you may give it away anywhere and everywhere you want. I want to help EVERYONE relax and get away for a moment. A little ESCAPE into BLISS ---
This is something W/we all need. So, get cozy and let Me take you to a special place, Escape Island, the Gift of Relaxation. I want you to listen to My voice everyday this week and then whenever you need to get away. you may always slip away with your Domina.
It's time to slow down and slip into a blissful relaxation. Believe Me I know what you need. I am inside your mind.
UPDATES
Thanks for sending your Lab Rat Amnesia Questionnaires. I will be reviewing them and putting out a report on My findings.
Next week W/we have Volunteer Day on the 15th, a very good day for relief with release, My baby.
This pandemic has forced major changes in behavior and the observance of religious holidays. Stay safe and remember the rules to protect yourself, loved ones and everyone else. One thing that doesn't change is your life here with your Domina. your behavior remains under My Absolute Authority. ~giggles~
NEXT WEEK: Humm, I'll make you wait. I will also have a 7 Day ASSIGNMENT to help relieve stress and RELEASE your tension. Contracted, there will be a new SFS slave story.
My special deals:
Reflections in the Mind --
your next COMPULSION. Very powerful Brainwashing and Behavior Modification...MIND FUCKING...
Focal Point --
Give yourself to Me...Enslave yourself to ME.
Private Text Chat - 30 minutes --
Schedule a 30 minute private text chat with your Domina.
Wicked Control --
I will cast MY wicked little SPELL...