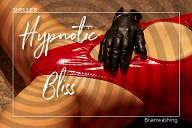 This EROTIC HYPNOSIS mp3 session is intended to have you experience TRUE Hypnotic Bliss. My hypnotized subject, I am using the hypnotic bliss I create in your mind and body to condition you to My control. you have given all power to My voice and lost the ability to resist. you know, sometimes, I record a file/session and it speaks for itself. Everything about this session is so serenely hypnotic. My voice is perfect, the content is flawless and the background music I use is the icing on the cake. So sweet and sexy. So soothing and relaxing for times like this, My baby. I'm cradling you close to Me in My nurturing, secure reality from the worries of the world.
In short, this is an almost perfect hypnotic session designed to take you so deep into hypnosis. I wonder if you will ever want to wake up as the pleasure lingers on and on? you now always need to Please Me with your complete obedience. So go and listen. you know that more details are quite unnecessary. I'll see you on the other side. ~giggles~
UPDATES
Autumn is here and maybe these coming weeks will be less hectic and uncertain. I really need that beach time getaway so I am giving you the opportunity to send Me to the beach in mid-October for MY stress relief and relaxation. My CHALLENGE is the next best thing to serving Me in person. ~giggles~
I am putting together an ASSIGNMENT for a full 10 hour EXTREME SLAVE DAY for sometime in October. you are going to love it. Next week I'll have a SIGN UP FORM for the Assignment that will explain the day, how it would work and what you would need for it. This will let Me know if you can find a full day sometime, when you have PRIVACY to give Me a day to show you what REAL TIME slavery training feels like.
How does one week of LOC-TOBER sound to My hard and horny Chastity slave? Email Me with CHASTITY in the header and your wish may cum, I mean, not cum true. ~giggles~
Now, I get asked a lot of personal questions, so I will be planning a SHELLE QUESTION & ANSWER Handout to answer those frequent questions. Coming soon.
NEXT WEEK
Prepare for a visit to My Mystic Queendom.
I will also have MONTH 7 of your Wellness-Lifestyle CHALLENGE. In some places this pandemic is as bad as ever. So be on guard and ALWAYS protect yourself.
Then, there is the SIGN-UP for October's Extreme slave day.
Come see My special deals:
Hypno-Persuasion - Final Chapter --
I am your ultimate hypnotic seductress, with a VAMPIRIC LURE, capable of disarming any man's defenses...
Profound Sleep --
Even though you don't always know what I might be doing to you, just LOVE this precious DEEP sleep...