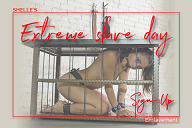 My sweet, I have gotten an overwhelming response with the Slave Day - Sign-Up. GO NOW and download your assignment and start planning. There is no timetable for the 10 hour Slave Day Assignment and Sissy Slave Day Assignment, so you will find it in New Releases. you can take a look at the whole Assignment, now. Keep in mind, you choose the day that will work for your schedule. Each hour is programmed for you.
Think ahead and PLAN. The Sign-Up explains what you need, then the actual ASSIGNMENT includes FREE downloads and hour by hour instructions. Most sessions are provided. Any you don't have are in Special Deals. Go now and download your assignment. Please know this is going to be INTENSE slave training.
Oh, check out the all NEW Shelle's TRIBUTE buttons...they are super sexy, don't you think? Plus, guess what, you can also use them anytime you are especially happy thinking of Me. ~giggles~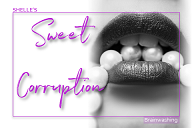 Sometimes I tell you very little about My sessions and just let you blindly experience and enjoy them to the fullest. With this week's erotic hypno mp3 session--Sweet Corruption, get ready to listen as I explain everything to you as it's happening. I want you to understand everything about hypnosis and brainwashing under hypnosis. you trust Me when I tell you I am not going to hypnotize and brainwash you. I tell you that My power and control over you can't happen against your will. After all, hypnosis is not magic. But, I wonder if My voice and My wordscan easily DISARM you and leave you open to what you want.
Don't worry, I can't enslave you with just My words. I don't manipulate you and seduce you and leave you weak and helpless by using My sexy body and touching you. I don't exploit your lust and cravings for My own purposes and ends. you know you have an Ethical Domina who always looks out for YOUR interests and well-being. I would never have you craving My instructions or force you to be My obedient slave. NOT ME....giggles
I have chosen you for a special purpose, so DOWNLOAD "SWEET CORRUPTION" and put on your headphones and listen. Be prepared, uncontrolled arousal may occur. Just follow My instructions and reap the rewards I have in store for you. I am certain that you will know how to thank and please your generous Domina. It works out so perfectly. ~giggles~
UPDATES
By popular demand a number of Chastity slaves wanted to experience another month in Locktober Lockdown. And as a bonus, I will allow you to interrupt your Lockdown schedule so you can listen to this week's Corruption session as a super teaser...there will be NO cumming for you anyway. Do NOT miss Sweet CORRUPTION. It's an amazing session.
NEXT WEEK
Interested in being My Sex Toy just before I lead you through a special week In Chastity? This upcoming Chastity week is for everyone NOT already in Locktober Lockdown. It will start next Saturday. Who said Chastity isn't highly arousing?
My special deals...
LOCTOBER - CHASTITY LOCKDOWN Series --
This is the COMPLETE 4-week LOCTOBER SERIES. Can you do it?
Please Domina --
Are you ready to a play a game, My mindless little toy?
Sissy Touch --
This could become one of the most incredible sissygasms of your existence.
A Sissy's Double Jeopardy --
Put on your favorite pink panties and prepare to get all wet for your Domina...