First of all let's begin the COUNTDOWN---To your Queen's birthday CELEBRATION. Looks like July 30-31-August 1-2-3-4-5TH Time to CELEBRATE.
A ROYAL EVENT
Time to light the candles for this year's GREAT celebration. It's your Domina's/Queen's ROYAL BIRTHDAY EVENT. This GLORIOUS day will be celebrated by many dedicated subs throughout the world.
For this year Domina has chosen a crimson red dress made from the most enticing silk to wear for the occasion. Domina will be adorned in precious jewels and Her body scented in floral perfume that was created just for Her.
But, her most seductive and secret piece of attire will remain hidden from view of the general public...Only her most loyal slaves will ((**close your eyes NOW and**)) find the hidden secret buried deep within your own mind.
you are INVITED to CELEBRATE this event by sacrificing three orgasms for Her Majesty on Wednesday.
Gifts are already arriving and being laid at Her feet. For those not knowing what to do for your Queen, you may TRIBUTE Her or TRIBUTE the needy in Her behalf. Or choose something from Her wishlist or give away your LUNCH money. Giggles!
She has requested that all of Her loyal and DEVOTED followers raise a glass in Her honor between 4pm and 10pm Wednesday.
Your QUEEN is planning a day of festivities for all to join!!! Prepare to REJOICE in Her honor!
Note about beach -- Close your eyes and imagine ME. My sunkissed skin drenched in dribbles and beads of sweat. Each dribble trickling down My face, past My lips and dripping onto My sexy cleavage, passing between My breast and down My tummy. Such HOT summer days in the south. Escape with Me for a few minutes now.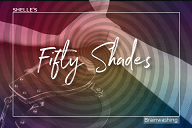 Back to reality....Let's talk about NOW, I know how much you miss your Domina while I'm having fun at the beach. Don't worry...I did not forget you. I'm bringing back some sexy pictures for you. Plus, I was also thinking of you with this week's Fifty Shades. Did you see that movie? Well, My Fifty shades will REPLACE your thoughts of what FIFTY SHADES should be. I can take Absolute control of you through My hypnotic suggestions and My triggers keep you focused on Me throughout your day. Admit it, puppy. Being this weak and needy for Me is VERY arousing.
Be FOREWARNED though, My Hypnotic POWERS changes I make will allow Me to control your emotional development and responses. As a word of warning, repeated listening may produce changes over time that can be quite intense. you may EXPERIENCE Conflicting views in your daily routines/beliefs.
Being My guinea pig this week will be a brand NEW and EXTREMELY vivid mind blowing experience. Just IMAGINE, finding little reminders of Me throughout the day, at the most unexpected times, to bring you right back to the intensity of this session. I hope it doesn't get embarrassing for your getting hard and horny for Me at a very inconvenient time. ~giggles~ Just kidding, I would not do that. I won't "give away"any more details. you'll just have to listen and "see". Cum be My love slave, NOW!
Perfect listening for the 1st, My contracted slave.
To bring in all 5 SENSES, this is a perfect time to have a pair of My scented PANTIES or STOCKINGS for your future listening Pleasure....
UPDATES
When I get home later this weekend I'll have a Beach Picture Pack posted for some Private quality time together. If I do say so Myself, I really look fabulous, so DAMN sexy. So be looking for it.
Contracted, also when I get home, as promised, be looking in your mail boxes for this perfect session…Vows of a slave. Sounds wonderful, doesn't it? ~giggles~
This is important with the re-emergence of Covid with so many hot spots around the world. you have to be especially vigilant and super careful. I have your August, Month 5 Wellness challenge.
NEXT WEEK
Let's go back to the playground for two new Surrender Triggers. And then, I'm calling all sissies for a new series in a special place, My Hypnotic Clinic…
My special deals this week:
Sissy Transference --
you will find that listening to any of My files will further your SISSY enslavement...
MY VIRUS --
MY VIRUS---THE PERFECT PROGRAM---NO ANTIDOTE
Sexual Nirvana --
Take a walk alone with ME..deep into My forest of desire...